Kids love Kid's Kingdom.  Adults love it too.  It is safe and well maintained.
However a stones throw from the jewel of Buford park are the remains of the City Pool. Re-bar, child sized slabs of concrete, shards of pipe, and electrical wire surround a pit that now collects water.  There are plenty of rocks and debris to throw into the water, children are drawn to the site. The piles of concrete and rubble make for a challenging climb.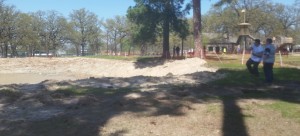 Except for one section of orange construction fence on the east side of the pit, nothing would prevent a toddler from walking into the water. Monday morning, city crews began pumping the water out of the pit according to City Manager Marc Maxwell. Maxwell states that the pit will be filled with clean dirt and the rubble hauled away.
Until demolition work completes, or a complete fence is erected, it is recommended that parents should keep a watchful eye on their children.