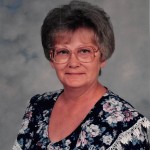 A funeral mass of Christian burial will be held for Joy E. Kozeluh, age 68, of Sulphur Springs, TX, at 12 noon, Friday, March 27, 2015 at St. James Catholic Church with father Juan Carlos Sardinas officiating.  Interment will follow at Pirtle Cemetery with the grandsons, Erik Modisette, Brandon Love, Dusty Love, Daniel Cash, Joseph Gable and Allen Gable serving as pallbearers.  Visitation will be from 6:00 to 8:00 p.m. with Rosary beginning at 7:00 p.m.
Mrs. Kozeluh passed away Saturday, March 21, 2015 at her residence.  Mrs. Kozeluh was born on April 12, 1946 in Gainesville, TX.  She married Terry Kozeluh on December 28, 1962 in Compton, CA.  He survives.  Mrs. Kozeluh was a homemaker and a member of St. James Catholic Church.  She loved to work in her garden and loved to bowl and do crafts.
In addition to her husband she is survived by her son, Robert Kozeluh and wife Marsha of Kilgore, daughters, Leah Modisette and husband Kevin of Gladewater, Susan Love and husband Chuck of Kilgore and Ann Marie Kozeluh and husband Charles of Arkansas, sisters, Joyce Crawford and husband Billy of Porter, TX, Joann Reed and husband Don of Denton, TX, grandchildren, April Cash, Stephanye Hill, Erik Modisette, Brandon Love, Dusty Love, Joseph Gable, Allen Gable, Ashley Bilyeu, Caitlin Kozeluh and Kristina Kozeluh, great-grandchildren, Savannah Cash, Blaire Kaufman, Aireal Cash, Chloe Kaufman, Lauren love, Ruemor Love, Lia Love, Landry Love, Skye Love, J. B. Hill, Ashliynn Gable, Madilynn Gable, Carter Daniel Rodriguez Gable and Carli Rodriguez Gable.  She was preceded in death by her father, J.T. Ray and her sister, Jerry Lynn Smith.
Arrangements are under the direction of West Oaks Funeral Home..