James Franklin Wooten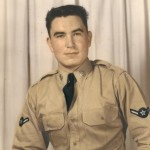 Graveside funeral services for James Franklin Wooten, age 78 of Brashear will be held Sunday, March 29, 2015 at 2:00 p.m. at Brashear Cemetery.
Mr. Wooten passed away on Wednesday, March 25, 2015 at his residence.  He was born in Bosco, Louisiana on November 13, 1936, the son of James Elbert and Juanita Samonia (Alonzo) Wooten. He served in the U.S. Air Force, was a land surveyor, member of the Knights of Columbus and of the Catholic faith.
Survivors include: daughter, Diana Wooten of Brashear; son, Morgan Wooten and wife, Jacqueline of Sulphur Springs; grandchildren, Ethan Wilson, Aaron Wooten and Abigail Wooten; brother, Bobby Wooten of West Monroe, LA; nephew, Robby Roberts of West Monroe, LA and niece, Pauline Tanner of West Monroe, LA.
He was preceded in death by his parents and sister-in-law, Elizabeth Delores Dickey.