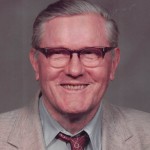 James Alvie Little, age 96, formerly of the Talco Community, passed away peacefully in his sleep in the early morning hours of Thursday, March 19, 2015 at Carriage House Manor Nursing Home in Sulphur Springs. James was born on August 19, 1918 in North Franklin County to the late Sanford "Mellie" Melkigah and Addie May Elliott Little. James attended high school but was needed more at the family farm where he learned the skills from his father he would use throughout his life.
On October 12, 1939, James joined the Civilian Conservation Corps where he served in Roswell, New Mexico until January 11, 1940. He then joined the United States Army Air Corps where he proudly served his country during World War II in the 2277th Quarter Master Truck Company. They served in the South Pacific Theatre and were stationed in Hawaii. James received a Good Conduct Medal, the Asiatic-Pacific Campaign Medal and was an Expert Carbine Rifleman. He was honorably discharged at the rank of Corporal.
James returned stateside where he went back to work on the family farm where he stayed until his health finally forced him to let it go. He was a hard-working man who loved the land and his animals. His caring spirit led him to dedicate his life to taking care of his beloved parents until their passing. James was a man who loved God and he loved his church. He was a longtime member of Lake Chapel Church.
James is survived by one sister, Ruth Little Eaton of Mount Vernon; very special nieces, Martha Ann Heard, and husband Wendle, of Yantis, and Kathie Eaton of Mount Vernon; niece, Belinda McClenan of Mount Vernon; nephews, Kenneth Little, and wife Jeanne, of Odessa, Jimmy Attaway, and wife Darlene, of Forney, Danny Attaway of Coke, Larry Attaway, and wife Debbie, of Pickton, Ronnie Attaway of Pickton, and Merle Nowlin of Greenville; by very special care giver, Linda Dayne of Sulphur Springs; and by a host of other relatives and very special friends.
He was also preceded in by two death brothers, Alvis Little and S.M. Little, Jr.; four sisters, Nettie Nowlin, Lera Mauldin, Jessie Attaway, and Elsie France; and by one nephew, Mike Little.
Funeral services for James Alvie Little will be held at 11:00 A.M., Saturday, March 21, 2015 at Sam B. Harvey Funeral Home with military honors conducted at the funeral home. Services with be officiated by Brother Gerald Hood. A private burial will take place at Fairview Cemetery near Hagansport with his nephews serving as honorary pallbearers. Visitation will begin one hour prior to the funeral at the funeral home.
In lieu of flowers, donations may be made to the Fairview Cemetery Association.