Hodge Chevrolet Coming to Sulphur Springs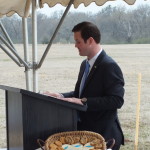 Damp conditions and wet ground did not dampen the spirits of those present Thursday afternoon for ground breaking at the location of Hodge Chevrolet on Wildcat Way in Sulphur Springs. Jay Hodge, owner, stated that this had been a five year project that began with him working with his grandfather, James Hodge. He plans to open a family owned business with a family atmosphere as he establishes his dealership in Sulphur Springs. Hodge stated that as his grandfather helped him in establishing the start of the business, so he hoped to assist his grandchildren to begin their future work.
The 15,000 square feet building, to be constructed by Harrison, Walker, Harper of Paris, should be completed in September of this year.
He stated that the dealership would employ 20 people when it opened and would grow to 40 over time. Hodge thanked realtor Tim Kelty, the Chamber of Commerce, and General Motors as he spoke of his dealership.