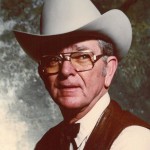 Funeral service for Glynn Rabe , 89, of Emory, will be held
Monday
,
March 16, 2015
, at the Church of Christ in Emory.  David Baker and Robert Waller will officiate.  Burial will follow in Lynch Cemetery. Visitation will be
Sunday
evening,
4:00 – 6:00
at Wilson-Orwosky Funeral Home. Mr. Rabe died
Friday
afternoon at his residence.
He was born Feb. 28, 1926, in Point, to Robert William and Caldonia Belzora Pound. Mr. Rabe served his country during WWII in the U.S. Navy. He served, on a supply ship, in the South Pacific.  His position was  an anti-aircraft gunner. He was a member of the Church of Christ in Emory. He married Leta Stewart Hurst, at Flats, on June 14, 1984. Mr. Rabe was  a retired fire fighter for the Dallas Fire Dept.
Survivors include: Mother:  Leta Rabe of Emory; Daughter:  Diana (Rabe) Liles (Gary) of Scurry; 2 Sons:  Scott Rabe (Jeana) of Van Chad Rabe (Diane) of Arlington; 2 step-sons:  Steven Hurst (Sheriee) of Point; and Roger Hurst (Trena) of Ok; 2 step-daughters:  Annette Foster (Dick) of Emory, and Vicki Walker (Jack) of Golden;  Grandchildren:  Zac, Lauren, Chase, David, and Hunter; Step-grandchildren:  Shanda, Syrus, Stewart, Sammie, Sara, Roger, Jr., Derek Brian, and Canyou; Great-grandchildren:  Hannah, Brennen, Bryce, Allie, Jacie, Gus, Beau, Luke, Dillan, and Cody; Mother of his children:  Louise Rabe; and a loving extended family
Preceded in death by:  Parents, 4 brothers, Lester Rabe, Garrett Rabe, J.B. Rabe, and John Rabe; 4 Sisters:  Lota Cason, Gert Hughey, Cleo Ivy, Ophelia Matlack.
Wilson-Orwosky Funeral Home directed the service.