The Sulphur Springs High School UIL teams had a Division 1 Meet January 30-31. 68  Medals were earned over the course of those two days. Seven UIL teams took home team trophies. 55 SSHS students competed throughout the 17 competitions.
In Current Events Evan Ost took third and Billy Phillips took fourth. Along with Christian Diaz- Deleon, the team earned first place.
Ready Writing was First Place team with Seth Harred in First, Patricia Parks in Second, Lydia Burleson in third, and McKenzie Hohenberger in Fourth.
Literary Criticism took First Place team with McKenzie Hohenberger in First, Laura Graham in Second, Mikayla Jones in Third, Patricia Parks in Fourth, and Shania Harmon in Fifth.
Spelling and Vocabulary took First Place team with Carson McIllwain in First, Jessye Castro in Third, and Sierra Joiner in Sixth.
Social Studies took Second Place team with Ariel Gonzalez in Fourth, and Andrew Allen in Fifth.
The Computer Science team placed first as a team with M. hunter Allen with a score of 240, Sean Allamang with 200, Tim Charlton with 196, Mauro Basio with 144, Austin Bennett with 144, Kye Laliberte with 184, Nathan Mabry with 92, Trenton Brock with 176, Tanner Ramirez with with 106, Nick Vasilakopoulos with 46, and Josh Snyder with 66.
Number Sense took Second Place team with Ariel Gonzalez in Second, Peyton Howard in Third, Andrew Allen in Seventh, Grace Grafton in Eighth, and a three-way tie for sixth with Carter White, Naimishaba Parmar, and Rodolfo Perez all taking Sixth.
Accounting took First Place team with Austin Bennett in First, Kade Crowson in Second, and Teotino Zapata in Third.
Lastly, Journalism took First Place with Steven Payne as First in News Writing, Second in Headline Writing, Second in Feature Writing, and Third in Editorial Writing. Lacey Jackson took Second in News, Fifth in Feature, and Second in Editorial. Lilli Gallagos took Fourth in both News and Headline, and Patricia Parks took Third in Headline.
SSHS UIL's next meet is at Hallsville on February 13-14. Despite concerns caused by the dates, UIL will be returning with plenty of time to spare for students wishing to attend the Hearts Dance Valentine's Night.
This Featured Image shows just a couple of the medalists from Saturday, January 31.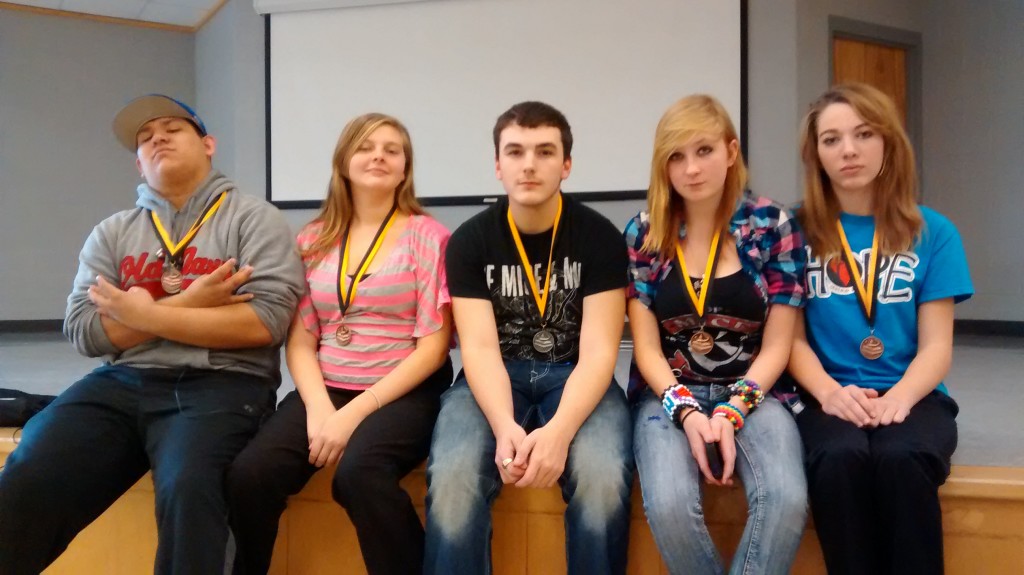 From the left: Austin Reyes, Raynie Hooten, Austin Bennett, Kaitlyn Ludwick, and Natalie Cruz.