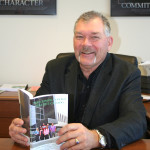 Dr. Phil Williams, a resident of Hopkins County and a coach and administrator at the university level since 1986, has been employed as director of the Paris Junior College-Sulphur Springs Center.
Williams began his new job Feb. 8 and said he is glad to be able to live — and work — in Hopkins County.
In announcing the employment of Dr. Williams, Paris Junior College President Dr. Pamela Anglin said, "We are excited about having Dr. Williams as part of the PJC team with responsibility for the Sulphur Springs campus."
Williams, who received his Doctor of Education degree in physical education and health from Texas A&M University-Commerce, comes to the PJC-Sulphur Springs campus from Dallas Baptist University, where he has served as Chair of the Kinesiology Department since 2005.
"This is a wonderful opportunity and I look forward to helping the PJC-Sulphur Springs Center campus grow with programs that will benefit the students and the community," he said.
Dr. Williams received his Bachelor's Degree from UT Arlington and his Master's Degree from Angelo State University. He began his career in education at Evangel Temple Christian School and at public schools in San Angelo, Paul Pewitt High School and later Grape Creek Independent School District before becoming head coach and instructor in the Athletic and Kinesiology Department at Texas A&M University-Commerce.
He coached track and field and cross-country for the men and women's teams at A&M-Commerce that won three national championships and produced 39 All-Americans during his tenure from 1986 to 2002.
Williams moved to Dallas Baptist University in 2003 as a professor in the Kinesiology Department and was named chairman of the department in 2005. Under his direction and teaching, the DBU Kinesiology Department grew from 15 students to over 260 by the fall of 2014.
The new PJC-Sulphur Springs Center director grew up in Grand Prairie, but he said all of his family came from Daingerfield and Gilmer. "I believe that is why I wanted to get back to my family's East Texas roots and move to Hopkins County," he said.
Williams said he sees his move to PJC-Sulphur Springs Center as an exciting time.
"It will be great to be a part of a transition from the current campus to the new campus — something that will make an impact on the community," he said. "It will give us more opportunities and space to educate and train our students."
Williams and his wife, Vanessa, reside on their farm located between Emblem and Ridgeway. At Phinesse' Farms LLC, the name of their rural Hopkins County operation, they have a vineyard, a large orchard and garden. Williams is also a musician, writes music and plays a good game of golf.