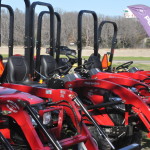 Nor Tex Tractor is having a sales donation from now through to March, 6. Nor Tex will donate $500 for every Mahindra tractor sold to the Hopkins County Junior Partnership Show whenever they purchase anything from the champion projects of the Show.
"This will residually increase our spending limit, which is what we want to do," Nor Tex manager Tommy Mobly said. "It's way to get the community involved and and so these guys buying tractors know that we're doing stuff for the kids. It's a good place to put the money."
Nor Tex chose the Mahindra brand of tractor specifically because of its high sales this time of year. The tractors that qualify for the sales donation range from the smallest to largest size of Mahindra tractor.
"This time of year, we're going to sell more of those smaller tractors," Mobly said. "They do move a little more in that size range that we're targeting. There's not any specific size Mahindra, so anything from a 25 horsepower to a 105 horse power."
This sales donation is new for Nor Tex. They began the donation to promote future farmers. Nor Tex wants to sell ten more Mahindras during the two weeks they have left before the deadline.
"It's something that is beneficial for everybody," Mobly said. "Customers that buy a tractor can know that we are giving back to the kids, and putting the money right back into the upcoming farmers. It just kind of works better for everybody."