Join us for the Winter Spectacular Chamber Banquet, Thursday, February 19th!
Tickets are on sale NOW for the 89th Annual Chamber of Commerce Membership Banquet. It will be a relaxing casual evening of entertainment, great food and the recognition of some well-deserved businesses and individuals. The banquet will take place in the beautifully renovated Hopkins County Civic Center on Thursday, February 19th at 6:30pm. Tickets are $25 each. This year, if you would like to reserve a table for 10, you may do so for $300. These will be the only reserved seats…all other seating will be first come/first served. Reservation deadline is February 11th! For more information or to purchase your tickets please call 903-885-6515.
Congratulations to the Law Enforcement/Early Responders Award Recipients
Hopkins County EMS Paramedic of the Year-Jeff Sanderson, Hopkins County Sheriff's Posse Member of the Year-Joe Hooten, Hopkins County Sheriff's Department Officer of the Year-Michael Russell, Sulphur Springs Police Department Officer of the Year-Seth McDaniel, Sulphur Springs Fire Department Firefighter of the Year-David James, Highway Patrol Trooper of the Year-Aaron Hanna, Hopkins County Fire Department Firefighter of the Year-Brian Fairchild, Volunteer of the Year-A.G. Sandifer, Most Dedicated-Joel Pace, Cumby Police Department Officer of the Year- Mitchell Singleton, Sulphur Springs Independent School District Officer of the Year-Glynda Chester! A Very special thank you to all of the sponsors who made the steak dinner possible for these deserving service men & women in our community. For a complete list of sponsors, please visit www.sulphursprings-tx.com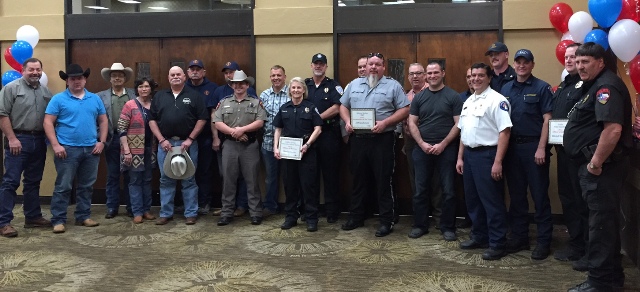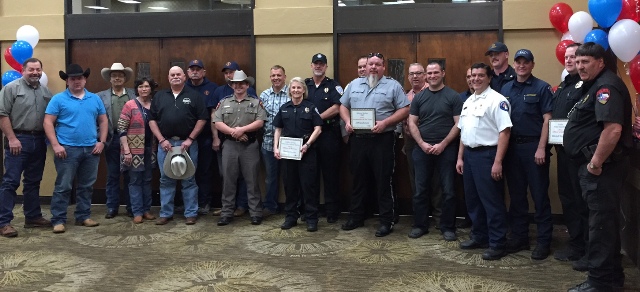 Thank you to everyone who attended the Ribbon Cutting for Idzi Bitsy Bakery yesterday!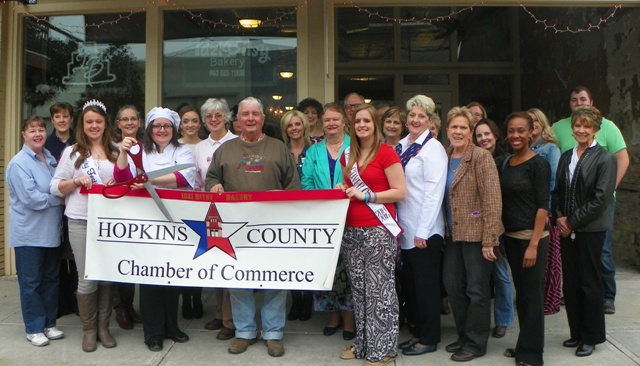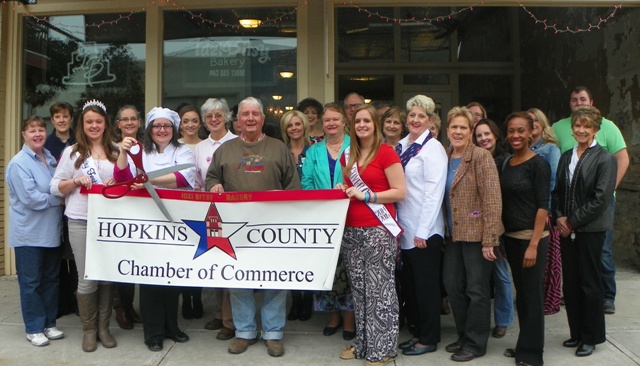 IdziBitsy Bakery is having their Grand Opening, Saturday, February 7th from 10-3 and you don't want to miss it! They will be having teams from local businesses compete in a cake decorating contest. Not only will the public be able to vote on it, but in order to give back to the community, Michelle Idzi will be asking for a dollar donation/vote and ALL of the money will go to the Downtown Trolley in order to get it to run on a regular basis! The bakery has so many yummy items to choose from…so don't miss the grand opening! IdziBitsy Bakery is currently baking King Cakes, along with pies, cake balls, cupcakes, kolaches and much more. For more information, please call 903-885-9866.
Pioneer Café's "A Little Taste of Romance Candlelight Dinner", Valentine's Day
It's a special evening at Pioneer Café for Valentine's Day. They will be open for 2 different seatings, 5:30 and 7:30. Dinner includes an appetizer (shrimp cocktail or seafood bisque), Salad (strawberry spinach salad or garden salad), Entrée (Prime Rib or Grilled Pork Chop) and Dessert (Sea Salt Caramel Cheesecake or Bread Pudding). Everything includes bread, soft drinks, tea, coffee and you may bring your own wine. For more information, please call 903-885-7773.
Ducks Unlimited Annual Banquet, Civic Center, February 12, 2015, 6-10 p.m.
Tickets are available for this annual banquet at 903-521-4595, Edd Hanson, or may be purchased at the Civic Center. Tables can be reserved for $650.00; Singles-$50.00; Couples $75.00. For more information call 1-800-45ducks or visit www.ducks.org. This event supports waterfowl and wetlands conservation. With your help, Ducks Unlimited can realize its vision of wetlands sufficient to fill the skies with waterfowl. Please try to attend.
A Formal Affair 2015, Civic Center Exhibit Hall, Sunday, February, 22, 2015 from 1–5 p.m.
It's a Bridal, Prom and Quinceanera Expo. Brides get in for free. It's $5.00 per person at the door. There will be a dress give-away. For more information call 903-885-8071.
Pilot Club Spring Brunch, Saturday, February 28th from 10-Noon
The Pilot Club of Sulphur Springs is hosting their annual spring brunch, silent auction and raffle. The speaker this year is Deb Hays. She is a lawyer from Granger, Indiana and is the former executive director of Pilot International. For more information please call Debra Evans at 903-348-2632 or Linda Henton at 903-348-6576. The event will take place at First United Methodist Church in Sulphur Springs.
Dentistry from the Heart, Saturday, April 17th!
April 17th, Sulphur Springs area dentists, oral surgeons, dental hygienists, dental assistants, dental office assistants, area businesses and volunteer support are all coming together to bring dental care to those in need, right here in our community. Every year, individual dentists and practices across the country donate their time and resources to host this event! We are very fortunate to have our local dentists do this in Hopkins County. For more information you may visit www.dentistryfromtheheart.org. We will include the details as we receive them!
That's all for now…have a GREAT week!