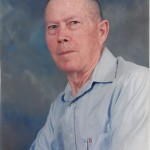 Graveside Services with Military Honors for Kenneth Hall, age 93 of Sulphur Springs, will be held at 11:00 a.m., Thursday, January 8, 2015 at Restlawn Memorial Park with Rev. Don Tinsley officiating and sons, son-in-law and nephew serving as pallbearers.  Open visitation will be held at Tapp Funeral Home on Wednesday, January 7, 2015 from 11:00 a.m. to 4 p.m.
Mr. Hall passed away on Monday, January 5, 2015, at his residence.  He was born the son of James Monroe and Lettie Lou Singleton Hall on May 9, 1921 in Sulphur Springs, TX.  He married Connie Paulene Hathcoat on January 13, 1947 in Sulphur Springs.  She preceded him in death in 2010.
Mr. Hall served in the U.S. Army and was a World War II Veteran.  He was on Omaha Beach on D-Day and fought his way into France and the Battle of the Bulge.  He first retired after thirty-six years of service from Rockwell International as a machinist and then retired a second time after eleven years of service at Piggly Wiggly.
He is survived by his daughters, Patsy Parker of Indianapolis, IN, Joy Hart and husband, Michael of Rockwall, Jan McAlavy and husband, Tim of Paris and Jill Shotwell and husband, Chris of Brashear; sons, Justin Hall of Sulphur Springs, Rick Hall of Aubrey, David Hall and wife, Donna of Abilene and Sam Hall and wife, Connie of Cumby; thirteen grandchildren; three great-grandchildren.
In addition to his wife, he was also preceded in death by his parents; one daughter, Dale Stever, five brothers and four sisters.
The online register can be signed at: www.tappfuneral.com