New avenues to scientific careers have been opened for students Paris Junior College students, thanks to five articulation agreements now in effect with the University of Texas MD Anderson Cancer Center School of Health Professions in Houston. PJC is the first college in Texas to enter into such agreements with the Center.
"The articulations with UT MD Anderson are an extraordinary opportunity for area students interested in becoming scientists," said PJC Science Division Chair Jack Brown. "They are a testament to the type of students we have been producing in the PJC science majors programs.
"These five programs will allow a student to earn their bachelor's degree in a variety of medical or laboratory sciences from one of the world's most premier cancer research facilities. Once there, students will experience state of the art laboratories inside MD Anderson and have top notch faculty guiding them in their courses and research."
The five programs are clinical laboratory science, cytogenetic technology, cytotechnology, histotechnology, and molecular genetic technology. To qualify for academic transfer to the UT MD Anderson School of Health Professions, a student must successfully complete the biomedical sciences program at PJC, maintaining at least a 3.5 GPA cumulatively and in science and mathematics college-level courses.
The agreements were executed by PJC President Dr. Pamela Anglin and Dr. Oliver Bogler, Senior Vice President for Academic Affairs at UT M.D. Anderson. "The articulation agreements with UT MD Anderson bring to PJC an incredible opportunity for students," said Dr. Anglin. "Kudos to Jack Brown and our science faculty for their science offerings and their students abilities being recognized by such a prestigious institution."
The clinical laboratory science program produces medical laboratory scientists who conduct a wide variety of laboratory tests on blood, tissues, body fluids and other samples, allowing diseases to be diagnosed and treated.
Cytogenetic technologists use cellular and molecular DNA techniques to study chromosomes in order to diagnose disease, track the effectiveness of the latest therapy, or predict genetic disease development. Cytotechnologists examine cells under the microscope to detect diseases and infection, and work closely with pathologists to diagnose benign and infectious processes, precancerous lesions and malignant diseases.
Histotechnologists are experts in preparing and staining surgical specimens for review by the pathologist and are vital team members in surgical pathology labs, research labs and commercial labs. The field of molecular genetic technology studies the structure and function of genes at the molecular level to identify genetic mutations that cause disease and also to monitor the effect of treatment.
All of these programs produce graduates in high demand nationwide in places such as hospitals, reference laboratories, corporations, cancer and constitutional genetic laboratories, academic or research facilities, biotechnology companies, pathology labs, chemical industry labs, pediatric and genetic counseling labs, and many more.
"The UT MD Anderson programs are highly competitive, small, and focused allowing between 19 and 35 students in each fall depending on the program," said Brown. "Having some of those spots guaranteed to PJC students who has proven themselves in our program is nothing short of amazing because they are highly sought after by students worldwide each year!"
The UT MD Anderson Cancer Center has ranked number one in cancer care in the "Best Hospitals" survey published by the "U.S. News and World Report for ten of the past twelve years. There is a four to one faculty to student ratio, meaning small class sizes and individual attention. Students from the School of Health Professionals routinely score in the top 25 percent on national certification exams.
The new articulations agreements join two others between the PJC biomedical sciences program and Texas A&M University's College of Veterinary Medicine & Biomedical Sciences and Health Science Center School of Public Health. PJC's biomedical sciences program has provided a path to success for many graduates. For more information about the program, contact Brown at [email protected] or 903-782-0319 after Jan. 12, 2015.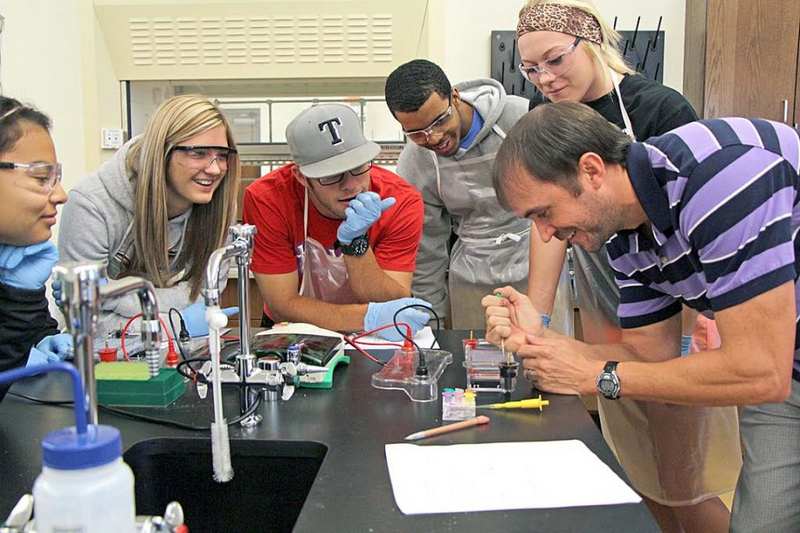 SCIENTIFIC DEMONSTRATION
PJC Science Division Chair Jack Brown (at right) demonstrates the technique for streak plating bacteria in the lab.