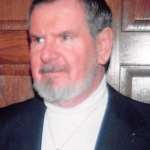 Funeral services for Phillip A. Rapp, age 76, of Winnsboro will be conducted at 2:00 p.m., Wednesday, November 5, 2014 at Our Savior Lutheran Church with Pastor Tim Eden officiating and Honorary pallbearers will be Paul Nortin, Brad Diener, Bill Zahn, Ben Newcomb, Geoff Wallace, Mark Sustaire and Eddie Malloy. Visitation will be from 6:00 to 8:00 p.m., Tuesday, November 4, 2014 at West Oaks Funeral Home. A visitation will be held from 6:00 to 8:00 p.m., Friday, November 7, 2014 at Langeland Funeral Home in Kalamazoo, MI. A Chapel service with Interment will be at 10:00 a.m., Saturday, November 8, 2014 at Mount Ever-Rest Memorial Park Cemetery in Kalamazoo, MI. Honorary pallbearers will be Jerry Schuring, Jack Welsh, Jack Buchino, Robert Rapp, Robert Buchino, Jason Buchino and Scott Buchino.
Mr. Rapp passed away Friday, October 31, 2014 at The Hospice of East Texas in Tyler, TX. Born in Kalamazoo, Michigan in 1938, he grew up on the family farm in Schoolcraft, Michigan where he later graduated from Schoolcraft High School Class of 1956. He served in the US Army during the Vietnam War, he was a truck driver and a member of the Teamsters Local #7 for 35 years. After retirement he moved to Texas where he and his wife Patricia have lived for 18 years. He loved to travel in their RV and do woodworking when they were home. He was a member of the Winnsboro American Legion.
He was a faithful member and servant of Our Savior Lutheran Church in Sulphur Springs, Texas. He is survived by his loving wife of 47 years, Patricia (DeVries), his nephew Mark Rambow of Michigan, his niece Karen Overacker of Michigan and his niece Diana Reinbold of Michigan. He was preceded in death by his father Clyde and his mother Amanda (Kohls), brother, Harold Rapp and two sisters, Doris Bell and Francis Roberts.
Arrangements are under the direction of West Oaks Funeral Home. www.westoaksfuneralhome.com