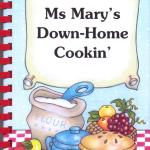 Mary Bonham of Sulphur Springs, Texas has written a cookbook named "Ms Mary's Down-Home Cookin'". This cookbook contains recipes from Ms Bonham herself, her daughter, her mother and her siblings. According to the author's forward, Ms Bonham wrote her cookbook after numerous requests from friends and family wishing acquire her recipes.
"Friends and family began to always ask me for recipes," Ms Bonham said in her forward. "Seems no matter what I carried to church socials or any other function, people always asked for my recipes. So after much thinking about it, I decided to put a cookbook together."
Ms Bonham learned how to cook as a child growing up in the 30s and 40s. She was taught by her mother on a wood stove, and later on on an oil stove.
"While mom was cooking, I remember standing on a stool as my mother would show me what she was doing," Ms Bonham said in her forward. "She would always say, 'now remember this, Mary', as she put ingredients together. As I grew up and raised a family, I was amazed at what all I had learned from my mom and just how much I learned to cook."
Ms Bonham will be donating a portion of the proceeds to the Bright Star charity. The cookbook will be sold for $20 per copy at KSST Radio Station, the perfect stocking stuffer or the up-coming Christmas season.
"So to all my friends who've always wanted my recipes, her ya go," Ms Bonham said in her forward. "I wish each one of you a great and happy cooking day with 'Ms Mary's Down-Home Cookin'."