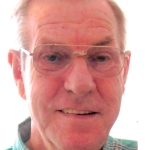 Funeral services for Troy Paul Mills, age 67, of Yantis will be conducted at 2:30 p.m., Saturday, November 1, 2014 at First Baptist Church Yantis with Rev. Kent Pate officiating. Interment will follow at Yantis Cemetery with Shannon Davis, Trey Norris, Ronnie Mills, Ronnie Housewright, Justin Barham, and Eric Snyder serving as pallbearers. Visitation will be held from 1:30 – 2:30, prior to the service.
Troy Paul passed away on October 28, 2014 at Carriage House Manor in Sulphur Springs. He was born on March 14, 1947 in Blue Ridge, TX, the son of Troy Lee Mills and Paula Irene Evans Mills. They preceded him in death. Troy Paul attended school in Blue Ridge, TX. He started working for the City of Dallas in the late 60's. After several years he left his position with the City to become the owner/operator of several different businesses. He ended his working years returning to his farming roots and working in the hay fields for Davis Farms.
He is survived by two daughters, Tina Davis and husband Shannon of Winnsboro, Tonya Norris and husband Trey of Yantis and four grandchildren Taelor Rawson, Trenton Norris, Taryn Davis and Shanda Davis. He is also survived by companion Doris Sue Barham and her grandchildren Justin Barham, Katie Synder, B.J. and Bryan Lawson and 4 great-grandchildren. He was preceded in death by his brother, Jerry Wayne Mills, step-mother Gladys Kincaid Mills, and grandparents Willard and Leona Pryor Mills and Robert Clifton and Cleda Irene Yates Evans. Troy Paul was a good man, a hard worker and most importantly he was a Believer of Jesus Christ and because of that profession of faith, he is completely healed today resting in Heaven.
Arrangements are under the direction of West Oaks Funeral Home. www.westoaksfuneralhome.com