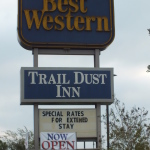 The Trail Dust Inn is now open…again. The Best Western hotel opened its newly remodeled doors on Monday, October 8 after the main building suffered major fire damage over a year ago.
Renovations on the Trail Dust Inn began on June 1 of this year. A brand new lobby and breakfast area now stands where the two-story lobby and indoor-entrance rooms stood prior to the structure fire.
Heritage Hall, the hotel's conference center and banquet hall, received renovations as well and is now available for hosting a wide variety of corporate and private events. The hall and hotel will host guests and officials for the upcoming UPRA Rodeo in November.
There are 69 newly remodeled rooms available at Best Western Trail Dust Inn as well as a swimming pool and new fitness center. For more information you can call 903-885-7515 or visit the Trail Dust Inn website at bestwestern.com/traildustinn