"My wife has always loved that building ," Mr Glass said. "We went to school in Commerce and when she would get sad, we would make the drive from Commerce and it didn't matter whenever it was, 12:00 or 1:00 in the morning. We would just go and sit in that empty parking lot across the street, and we promised if it ever became available and we had the opportunity to buy it, we would actually do that. When that opportunity became available, when Rick Murray had it up for sale, we just knew it was right and she wanted it so that's what we were able to do."
The former Knight's Head Inn, a well known underutilized building on Main Street, is undergoing renovations. The owners of the building consist of Garret Glass, his wife, Emily Glass, and her parents Bill and Gina Wilder. Mr Glass and his wife purchased the building because of the fondness that both shared for the old Inn.While it has no tenants at the moment, the renovators are certain that once refurbished, the building will see business again.
"I hope something goes in there that has longevity in town," co-owner Garret Glass said. "It's a building that everybody knows. It's a two story on main street and everybody loves it. People ask us, 'hey what are you going to do with it', because they want to see that building turned around and come back to life."
Since no tenants have moved in, the old Inn is undergoing mainly basic structure and appearance renovations. The structure of the building did see some problems back in June. The entire front of the building basically came crumbling down due to the front shifting three to four inches down, about the height of a brick across the front. Because of that incident, the whole front had the be taken down and redone. Construction continues and the inner design of the building has taken on a unique shape.
"My wife has always loved New Orleans, mainly the French Quarter, old buildings with balconies, French doors that open up and give you that kind of outside feeling while still being inside," Mr Glass said. "So we tried to do that with the building down there. We are going to have three sets of French doors that can all open up, since we do not really have a place for outside seating, for like a restaurant, so they would be able to open those doors and give those seats right there that outside feel. What we are going to do with the upstairs is, like the downstairs, really up to whoever wants to get in it and have a thought process on what to do and some artistic design with it."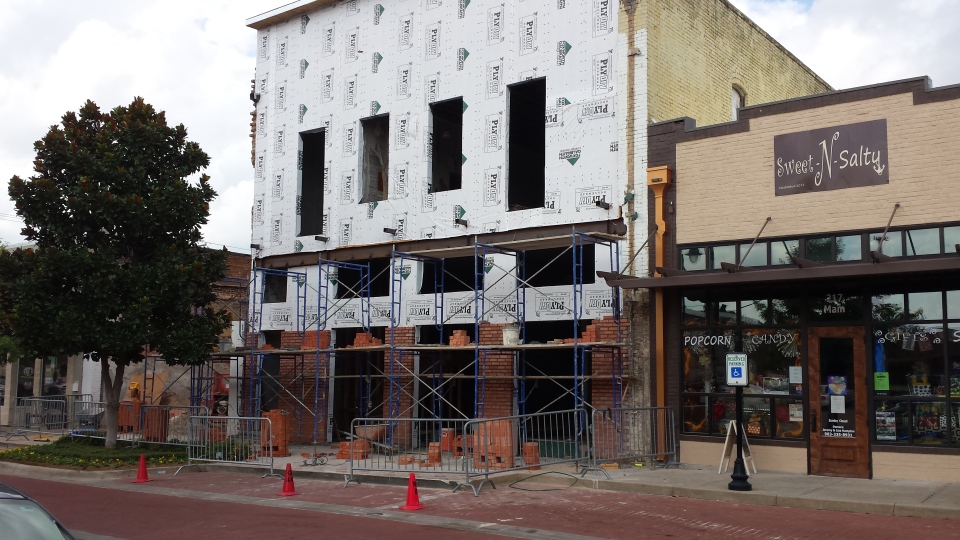 The former Knight's Head Inn continues Renovations after almost a year in the works. The owners continue to advertize the building, trying to find anyone interested to making the old Inn a living, breathing member of the new Sulphur Springs.
"This is what we are hoping to do with it," Mr Glass said. "If we can give the building new life, and whoever come into it has longevity, they can make the building a part of historical downtown. That's truly what we are looking for. At this point in time, whoever want to come in and do it , that has a vision for downtown and wants to be there, we are open to it."