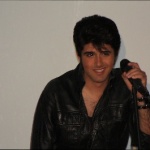 Josh Davis, an Elvis Presley Tribute artist, is back in Sulphur Springs. He is returning from a busy September month.
"We were in South Carolina doing an Ultimate Elvis Contest down there with several other guys," Davis told Enola Gay this morning on KSST Radio. "We had a ball doing that, it was a beautiful state and we just had a great time. We came in ninth, so that's not so bad."
Competitions are held for Elvis Tribute artists all over America. There are even some for young children.
"There's actually two, could be one now if you count Images because they do a youth division where the young kids can get into it," Davis said. "It's pretty interesting to watch when they're about that high, it's pretty cute to watch."
Along with competing against other tribute artists, Davis also does private bookings and parties. He recently did a few gigs here in Hopkins County and the surrounding area.
"We recently did one over at a Hopkins County place which is not too far from the park, actually," Davis said. "Before then we traveled to Commerce for a private party that we did, it was a very awesome night. We also did Round Top Texas just recently, which was a benefit for Saint Jude's. We raised close to $2,400 for St Jude's that went straight to the children, so we did well thank God."
Davis has a Legends and Elvis concert planned on October 4 at the Sulphur Springs Antique Auction Building, 1130 E Shannon road, with a $15 advanced admission fee or $15 at the door.
"It's a different theme from the shows that we've done throughout the years, because originally I was supposed to have David Allen with me, but he had some prior engagements that he had to do," Davis said. "So this one is just me pretty much alone. I'll be pulling out some characters that I haven't done since 2011. Ritchie Valens will be back, and of course I've recently done a Buddy Holly tribute. Roy Orbison and Rickie Nelson will make the four characters and the rest will all be Elvis."
Josh Davis will be performing on October 11 in Sadley, TX. He will also be in Gilmer, TX on October 16 and in Riley Springs on October 18.