Thank you Hopkins County for Making Stew Fest 2014 a HUGE Success!!!
To host an event that gathers over 7000 people in one day, takes a TON of dedicated volunteers to make it happen. I cannot go another day without thanking all of the wonderful people who helped with the stew contest. It would take the whole paper to list them all but I will try to list them in categories…so here goes…Thank you Chamber of Commerce Board of Directors and Ambassadors…past and present, Stew Judges, SSHS Blue Blazes, SSHS Student Council, Saltillo Student Council, Como-Pickton Student Council, HC Leadership Class, Teen Court, City of Sulphur Springs, Hopkins County Sheriff's Department and Trustees, A&S Air Conditioning, Gary Spraggins, SSHS Class of 2016, 154 Stew Cooks, 154 Sponsors, Prize Money Sponsors, Winning Stew Sponsors, Campsite/Costume Sponsors, Product Sponsors, Goody Bag Sponsors, all of the people who came out and my Mom! This event would not have happened without the help of all of these amazing people. So, if I may take a moment to say Thank you from the Bottom of My Heart!!!
Thank you Downtown Business Alliance for running the trolley from the downtown Corvette Show to the Stew Fest to the Fall Festival! What a wonderful service you provided our citizens!
9th Annual Heritage Square Car Show, Saturday, November 1st, Downtown Sulphur Springs
The Downtown Business Alliance will present their 9th Annual Heritage Square Car Show, Saturday, November 1st, on Celebration Square, downtown SS! Registration is from 8-Noon, with prizes in over 24 categories being awarded at 3pm. Vehicles must be 1987 or older to participate and the first 50 entries will receive Dash Plaques. Participants will be entered in 4 drawings for cash prizes. For more information, please call 903-885-1236 or 903-335-0487!
The Sulphur Springs Downtown Business Alliance Presents the 8th semi-annual History By Foot, Nov. 8
Join Sellers, Historian, for a walking tour of downtown Sulphur Springs and discover the history of some of our historical buildings and landmarks and learn what events took place where. John Historian will begin the tour by the flagpole in the center of the Celebration Plaza (square) on Saturday, November 8, 2014 at 9:00 and 10:45 a.m. Make your reservations at Alliance Bank, City National Bank and the Genealogical Library, 212 Main St. or call 903-438-4831. A golf cart will be available for anyone who has trouble walking.
Ribbon Cutting for Dr. Melissa Nix-Edge & The Smiley Tooth
What a fun ribbon cutting we had at The Smiley Tooth last Thursday! Guests were treated to a fun carnival, filled with cotton candy, hot dogs, carnival games, balloon animals and much more! Why did they do this??? Because now they are open 5 days a week! They are very excited also, to have a hometown girl as one of their dentists…Dr. Melissa Nix-Edge! For more information or to make an appointment, please call 972-SPARKLE!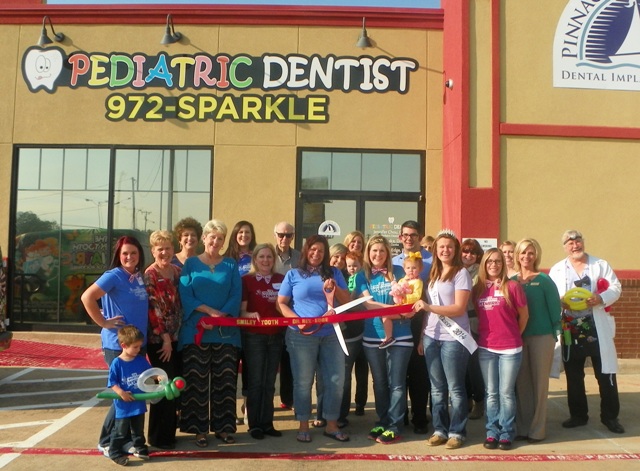 Ribbon Cutting at Play Matters toy store was fun and eye-opening
Play Matters owned by Katerina Price and Tiffany McPherson opened this weekend and you are going to have to stop by their location at 101 Bill Bradford Road in the Windsor Plaza. It is an amazing toy store! They have a fabulous selection of creative play things, books, specialty items and MUCH more! I bet I played with EVERYTHING in the store. They have some of the softest stuffed animals and most unique puzzles and crafty things! They are open Tues-Sat from 10-6 and Sunday from 1-5! You can create wish lists and they also have layaway! For more information call Katerina Price at 903-243-0383 or like their FB page!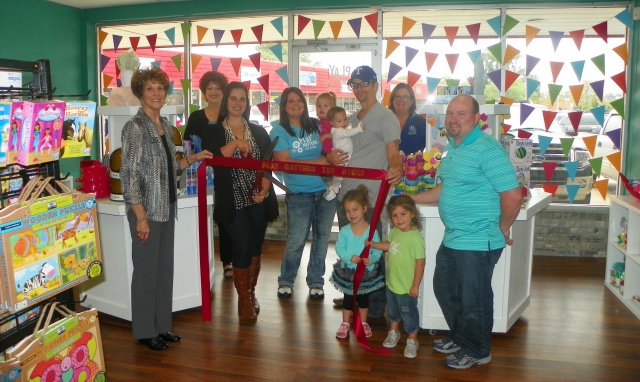 Divorce Care is being offered at First United Methodist Church, every Sunday at 4:00
Divorce Care is a friendly, caring group of people who will walk alongside you through one of life's most difficult experiences. Divorce Care meets each Sunday at 4:00pm in the Good News Classroom at First United Methodist Church and is open to anyone in our community. We encourage you to share this with those who are struggling with divorce in our community. For more information contact Tom or Debbie Young at 903-413-1673 or 903-243-1235
Trinity God Church of God's Food Pantry is CLOSED because of remodeling.
This week was the last week for the Trinity God Church of God's Food Pantry. The building will be under construction for several months. There will be No more Food Pantry at this location.
The Community Bible Fellowship/Open Arms Recovery Ministry hosting a Benefit Raffle
Chances for a $2,000.00 gift card are being sold by the Community Bible Fellowship and Open Arms Recovery in Dike. Tickets are $20.00 for 1; $100.00 for 6. All proceeds go towards helping someone get treatment for drug and alcohol addiction. The are also offering a Shotgun Raffle, Browning Maxis, Camo Finish, $1,270.00 Value, Semi-Auto 12 Gauge 2 ¾" and 3" Shell rifle. Tickets are 1=$10.00 and 6=$50.00. All proceeds go to baby Aniston Huie's medical expenses to ensure this child gets her helmet that will shape her head properly. For tickets or information contact Keith at 903-638-4226.
The Gospel Opry, Sat., November 1, 2014, 7:00 p.m, Reed's Entertainment Center, 421 E. Industrial Dr.
The show starts at 7:00 p.m. Tickets are $10.00 and kids 12 and under are free. Enjoy Cindy Gallant, Psalm 100, and The Vessels of Denton. Call 903-885-4262 for more information.
Load the Wagon & Saddle Up for St. Jude Trail Ride, Saturday, November 8th
Saddle up your horses and help St. Jude Children's Research Hospital fight cancer and other catastrophic diseases. The event will take place on Saturday, November 8th at Two J Ranch, 993 CR 2331 in Como. Gates will open at 7:00am, Saddle Up at 9:30 and Ride out at 10:00am. A free lunch will be provided, but remember…it is a fundraiser to help St. Jude's Hospital, so donations will gladly be accepted. There will be horses and mule wagon rides available. There is a $10 minimum donation for you to ride your own horse. If you would like more information, please call Jean & Jim Murray at 903-488-3030 Sandy Billodeau @ 903-488-3311 or Jr. Gregg at 903-488-3685. Others assisting in this great event are Cathi & Jim Wright 903-488-3350, Don Meeks 903-488-3456, Mike Mund, T.W. Little, Daniel Walker, Carole Hatch and Jo Marie Neal, so any of them will be able to give you more information. If you have never participated in this event, it is spectacular and you should! Not only is it raising money for an amazing hospital, but to see the hundreds of people, loaded up in their wagons, heading out for the cause…it is absolutely incredible, so please try to attend!!
41st Annual Christmas Joys Holiday Program, Monday, November 10th
Don't miss the 41st Annual Christmas Joys Holiday Program, "Everything Old is New Again" Monday, November 10 th at 1:30 and repeated 5:30pm at the Southwest Dairy Museum. They will offer decorating ideas, food gift ideas, recipes, craft ideas, gift-giving ideas, refreshments, door prizes, goody bags and a booklet of all the demonstrations' with instructions/recipes. Seating is limited to $5 per person. You must call to reserve a seat at 903-885-3443!
Remember Operation R.U.F.F. (Reading Using Furry Friends) every 1st and 3rd Saturday of the month.
The Sulphur Springs Public Library is offering this program to let children read 'stress free' to a trained therapy dog. When a child reads to the dogs, there are no mistakes, no wrong pronunciations, no stress…just reading. Join us from 10:30-12:30p.m.every 1st and 3rd Saturday of each month.
Sulphur Springs Public Library offering many new programs for your enjoyment and convenience
Beginning November 1, 2014 the Public Library launches digital eBooks, Audiobooks, Music and Video and an iPad Holiday Giveaway as well as a Learning Express Library, which is an online learning resource for academic and career development. Drivers Permit Practice Tests will be offered free for automobile, motorcycle, and CDL vehicles. For more information please call 903-885-4926.
That's all for now…have a GREAT week!