Thank you to everyone who attended the Ribbon Cutting & Grand Opening for Brendal's Bakery
Guests were treated to a wide array of delicious cupcakes as we celebrated with owners Gary & Brenda LaMonte, the grand opening of Brendal's Bakery & Cupcake Couture! They are located at the corner of Main & Gilmer Street. The bakery offers a wide array of products from cupcakes, cookies, any kind of cake imaginable, plus many other baked items PLUS, they now offer Gelato, Sorbet AND Coffee & Cappucinos! So after a wonderful meal downtown Sulphur Springs, stop in the bakery and have a nice cup of coffee and yummy dessert! For more information, please call 903-885-CAKE (2253).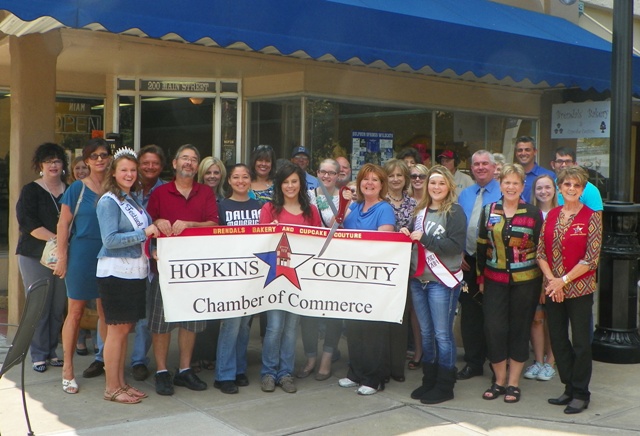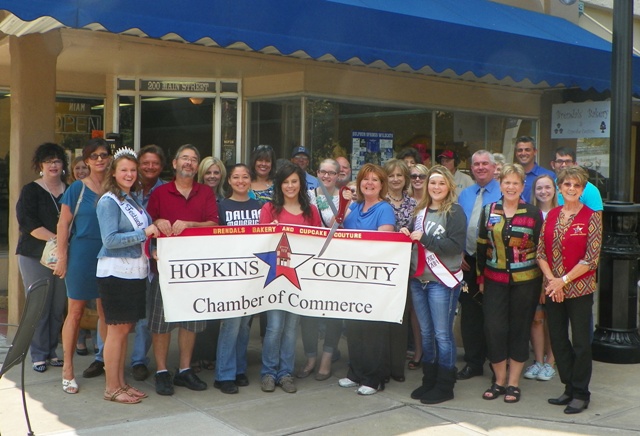 Cooler weather means that the Stew Contest is right around the corner! Saturday, October 25th!!!
Stew Cooks have been pouring in over the past few weeks and we are definitely on target for having the most stew cooks EVER! In 2012, we had 144 stew cooks. To date, with a month to go, we have 145 stew cooking teams. So, mark your calendars NOW to spend your Saturday, October 25th in Sulphur Springs for Stew Fest 2014…it is going to be a GREAT event! For just $5, you can get a bowl and make your way around Buford Park and sample as many of the yummy stews you can eat!
We still have a few sponsorships remaining…the purchase of the winning stew! Why is this sponsorship important? You not only get to have your banner hung on League Street for almost 2 full weeks, but your business name will be on the Stew Arches AND, when we announce the winners of the stew, a representative from your company may come up on stage as we announce the sponsors, to claim your stew! Then, you get to take home the winning quart of stew! If you are interested in these sponsorship opportunities, please call the Chamber at 903-885-6515.
STEW COOK meeting, Tuesday, October 14, 6:00 p.m., Southwest Dairy Museum
Cooks please mark your calendar for Tuesday, October 14, 6:00 p.m. for your meeting where you receive your goody bags, your check and important information about the contest. Lastly, we always give the stew cooks goody bags! If you would like to put an item in each of the goody bags, please have 300 of the items to the Chamber no later than Friday, October 10th!
Indian Summer Days/10th Annual John Chester Dutchoven Cookoff, Sat.,Oct. 4, 9-3, H. C. Heritage Park
Come join the fun, festivities and great food at the Hopkins County Heritage Park, 416 N. Jackson, Saturday, October 4, from 9:00 a.m. – 3:00 p.m. for the 10th Annual John Chester Dutchoven Cookoff. Entry fee to enter the contest is $25.00 Admission to the park is $3.00, and it's only $5.00 a plate for delicious meat, vegetables, bread and desserts. This is a fundraiser for the Hopkins County Heritage Park. Activities include blacksmith demonstrations; music, touring all the historical buildings; visiting the country store and much more. See you there!
Fall Festival Activities!!!
Fall Festival Business After Hours Mixer – Thursday, October 9, 2014, 5:30-6:30 pm, at the Civic Center. They will go over the upcoming events, concerts, introduce the Cover Girl contestants, and draw for door prizes.
The Fall Festival Battle of the Bands will be held at Muddy Jakes Backyard on Saturday, October 11th, at 6 pm. The top two winners will be the opening act for the Friday and Saturday night concerts during the Fall Festival.
The 19th Annual Fall Festival Golf Tournament will be Monday, October 13th, at the Sulphur Springs Country Club. Tee off is at 1 pm. Registration forms can be picked up at the Civic Center, Chamber and SS Country Club.
Hopkins County Fall Festival will be held October 18th – 26th. The Fall Festival will kick off Saturday, October 18th with the parade. The Cover Girl competitions will be Tuesday, October 21st and Thursday, October 23rd. The carnival will begin Wednesday, October 22nd. Friday, October 24th and Saturday, October 25th will be two days full of exhibits, events, games and concerts.
For more information on the Stew Fest Activities, visit www.sulphursprings-tx.com or www.hopkinscountyfallfestival.com
October is Breast Cancer Awareness Month, please note the following dates
Tubby Adkisson Memorial Mobile Mammography Coach will be in our area on the following dates:
October 14 Senior Expo – Sulphur Springs
October 22 Texas A&M University – Commerce
October 23 Spring Village Shopping Center – Sulphur Springs
All insurances accepted at Hunt Regional are also accepted for the Mobile Mammography Coach, including Medicare and Medicaid. They can also help with payment resources for uninsured/income-eligible women or those who choose to pay cash. For help with payment resources please call Jessie Bell, Texas Agrilife 903-590-2988. To schedule individual screening mammograms, please call 903-408-5010. Appointments and pre-registration are requested
8th Annual Senior Citizens Expo, Tuesday, October 14th at the Church of the Nazarene
Don't miss the 8th Annual Senior Citizens Expo, October 14th from 9-Noon at the Church of the Nazarene, 1300 S. League Street. They will offer Free health screenings and info for the following: cholesterol, blood pressure, glucose checks, height/weight, body composition checks, blood oxygen levels, pre need counseling, home health equipment, insurance questions, financial questions answered, door prizes AND Flu Shots will be available.
Divorce Care is being offered at First United Methodist Church, every Sunday at 4:00
Divorce Care is a friendly, caring group of people who will walk alongside you through one of life's most difficult experiences. Divorce Care meets each Sunday at 4:00pm in the Good News Classroom at First United Methodist Church and is open to anyone in our community. We encourage you to share this with those who are struggling with divorce in our community. For more information contact Tom or Debbie Young at 903-413-1673 or 903-243-1235
Alzheimers Walk to Remember, October 9, 6:00 p.m. at Hopkins County Memorial Hospital
Load the Wagon & Saddle Up for St. Jude Trail Ride, Saturday, November 8th
Saddle up your horses and help St. Jude Children's Research Hospital fight cancer and other catastrophic diseases. The event will take place on Saturday, November 8th at Two J Ranch, 993 CR 2331 in Como. Gates will open at 7:00am, Saddle Up at 9:30 and Ride out at 10:00am. A free lunch will be provided, but remember…it is a fundraiser to help St. Jude's Hospital, so donations will gladly be accepted. There will be horses and mule wagon rides available. There is a $10 minimum donation for you to ride your own horse. If you would like more information, please call Jean & Jim Murray at 903-488-3030 Sandy Billodeau @ 903-488-3311 or Jr. Gregg at 903-488-3685. Others assisting in this great event are Cathi & Jim Wright 903-488-3350, Don Meeks 903-488-3456, Mike Mund, T.W. Little, Daniel Walker, Carole Hatch and Jo Marie Neal, so any of them will be able to give you more information. If you have never participated in this event, it is spectacular and you should! Not only is it raising money for an amazing hospital, but to see the hundreds of people, loaded up in their wagons, heading out for the cause…it is absolutely incredible, so please try to attend!!
The 2014-2015 High School Leadership Class has been selected and each of the students are very excited to begin this journey of practical knowledge beyond the classroom. In order to set this journey in motion, we need your help! The students do not have to pay tuition for this program; therefore, your sponsorship—whether it be $100, $200, $300 or more, will insure that this fabulous opportunity for the students of this community continues.
This will be the 21st year that the Chamber of Commerce has facilitated this program for our county's young people. The students just completed their first session…the Ropes Challenge Course in Commerce. Then there will be five other classes during the school year: "Justice, Order & Politics", "Poverty, Crisis and Cultural Sensitivity", "Education & Tomorrow's Opportunities", "Ethical Decision Making", and "Tourism and Quality of Life". Then to top off this year-long program, the students will be taken on a field trip to the Dallas/Ft. Worth area for a day of learning, fun, food and fellowship!
The list below includes all SSISD and County School students that were selected for this year's program.
Katie Barnett
CJ Stephens
Andrew Allen
Caroline Berning
Ben Brooks
Jessye Castro
Hunter Coleman
Kade Crowson
Audrey Eddins
Avery Faulks
Melanie Ford
Drew Forsman
Lindsey Froneberger
Mauricio Gamez
Karson Goggans
Grace Grafton
Laura Graham
Constance Gregory
Seth Harred
Hailey Harrington
Caitlin Helm
Carson Hicks
McKenzie Hohenberger
Grace Horton
Peyton Howard
Kinzi Irving
Lacey Jackson
MacKenzie Johnson
Kelsey Kaufert
Jessica Laddin
Nathan Mabry
Skyler Martin
Madeline Massey
Hannah Mattison
Drew McCullough
Jacey Mitchell
Carly Parker
Myranda Pierce
Coen Price
Sarah Rost
William Sant
Hattie Schulz
Chandler Silman
Brianna Stone
Alexis Stribling
Monika Wartenbee
Landon Watkins
Sarah Weatheread
Please allow us to add your name to our list of sponsors this year. Please forward your sponsorship check to Hopkins County Chamber of Commerce, P.O. Box 347, Sulphur Springs, TX 75483-0347. If you have any questions, please call the Chamber office at 903-885-6515.
Welcome our newest member to the Chamber of Commerce
PLAY MATTERS TOY STORE
101 Bill Bradford Road, Ste. A, Katerina Price, 903-243-0383
That's all for now…have a GREAT week!