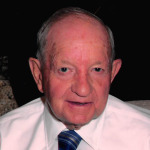 Carlyle James Young, age 84, of Sulphur Springs, TX, passed away Saturday, October 18, 2014 at Carriage House Manor. Mr. Young was born on December 29, 1929 in Memphis, TX the son of Ted and Lina (Hall) Young. He married Joyce Lambert on August 7, 1949 in Memphis, TX. She survives.
Mr. Young worked for Cabell's Dairies from 1960 to 1989 as a retail sales manager where he started out in Dallas and then was transferred to the Tyler office and then the Longview office and then to Sulphur Springs. He retired from Southland Corporation and was a member of the First Christian Church.
In addition to his wife of 65 years, he is survived by sons, Gary Lynn Young and wife Jennifer Cawthon of Rockwall, Carl Young and wife Betty of North Carolina, daughter, Brenda Joyce Wright and husband Fred of Gainsville, TX, brother, Royce Young of Bonham, sisters, Thursa Mae Smith of Lubbock, Margie Lou Davis of Denton, grandchildren, Barry Scott, Jamie Layer and Jessica Ketchum, great-grandchildren, Eligh Layer, Seth Burkhart, Levi Layer, Logan Scott, Kaleb Scott and Ally Scott. He was preceded in death by his parents, brother, Oscar Doyle Young, sister, Juanella Mowery and grandson, Yancey Young. There will be a visitation on Saturday, October 25, 2014 from 12 noon to 2:00 p.m.
Arrangements are under the direction of West Oaks Funeral Home. www.westoaksfuneralhome.com