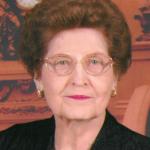 Funeral Services for Louise Denton, age 90 of Sulphur Springs, will be held at 12:00 p.m. (Noon), Thursday, October 23, 2014 at League St. Church of Christ with Travis Aven and Presley Eddins officiating.  Interment will follow at Restlawn Memorial Park with Roger Price, Clay Price, Tate Price, Jay Price, John Kirkpatrick and Tommy Panter serving as pallbearers.  Honorary pallbearers are Mel Panter, Leon Morrison, James Henry, Kenneth Prunty, Richard MyNatt, Perry Eddins, Keith Redfearn, Matthew Henry, David Henry, Eric Morrison, Shawn Prunty, Justin Chicol, Mike Vaughn, Mal Jester, Jr. and Mike Jester. Visitation will be one hour prior to the service.
Ms. Denton died on Tuesday, October 21, 2014 at her residence.  She was born on June 10, 1924, the daughter of Fred and Pearl Smith Henry in McCoy, TX.  She married Calvin Denton on September 14, 1944 in Hugo, OK.  He preceded her in death in 1996.
Survivors included: daughter, Gena Horner and husband, Dwain of Sulphur Springs; sister, Frances Jester and husband, Mal, Jr. of San Diego, CA; sisters-in-law, Marie Henry of Winnsboro and Frances Denton of Louisiana; numerous nieces and nephews. She was preceded in death by her parents; husband; brothers, Travis Henry and Robert Henry. Memorials may be made to Boles Home or League Street Church of Christ.
The online register can be signed at: www.murrayorwosky.com