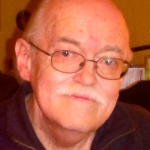 Graveside Services for Lynn Alan Massingill, age 65, of Sulphur Springs, will be held at 1:00 p.m. Thursday, September 25, 2014, at City Cemetery with the Rev. Jim Sustair officiating  No formal visitation is scheduled.
Mr. Massingill, a retired theater production manager and designer, passed away on Sunday, September 21, 2014, at Rock Creek Health and Rehab in Sulphur Springs. He was born on July 23, 1949, in Sulphur Springs, the son of Aron and Rosalyn Massingill.
He had a successful career as stage manager for the Country Dinner Theatre in Dallas in the 1970s, as well as for Casa Mañana in Ft. Worth. After a stint in the theater industry in New York City in the 1980s, he returned to his hometown and joined the board of the Hopkins County Dairy Festival, where he served for many years.  He designed and oversaw stage productions for the Hopkins County Dairy Festival, creating elaborate stage sets to showcase Dairy Festival Queen contestants.
During Mr. Massingill's career, he worked and toured with some of America's foremost entertainers, including Bob Hope, Martha Raye, Ann Miller, Mickey Rooney, Carol Channing, Hugh O'Brien and Cyd Charisse. He always remained close friends with actresses Ruta Lee and Rose Marie, most notably known for her role on "The Dick Van Dyke Show."
He was a 1967 graduate of Sulphur Springs High School and earned a bachelor's degree from East Texas State University and a master's degree from Southern Methodist University.
Survivors include his sister, Sharon Wright, and brother-in-law, Lynn Wright, both formerly of Sulphur Springs and now of Westminster, Colo.; niece, Kelly Nishi and her husband, Mike Nishi; great-nieces, Olivia Rosalyn Nishi and Sophia Elizabeth Nishi; and cousin, Ebb Moore, and his wife, Kim Moore, of Orange, Texas.
He was preceded in death by his parents.
Memorials may be made to the American Cancer Association or the charity of the donor's choice.
The online register can be signed at: