Congratulations to Big Smith's BBQ & Catfish for 25 years of service!
Thank you to everyone who attended the 25th anniversary celebration and ribbon cutting for Big Smith's! Donna & Steve Smith greeted all of the guests and presented awards to employees who had worked for them over 12 years!!! Steve Smith thanked everyone for their support and reminded them that they not only have the restaurant at 4858 Hwy 154 S, but they also can cater for any event! For more information please call 903-438-1547.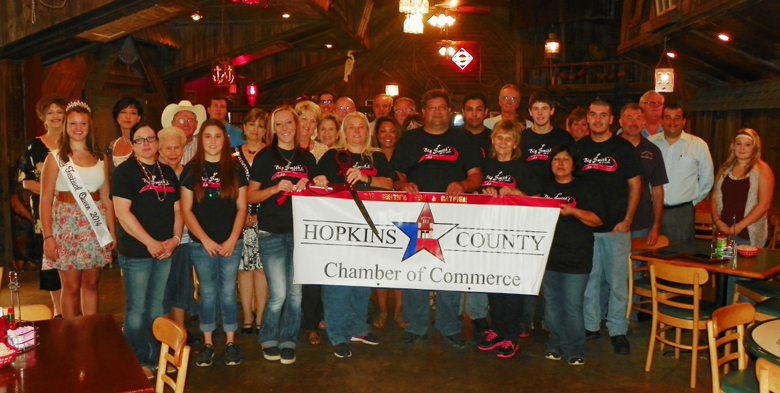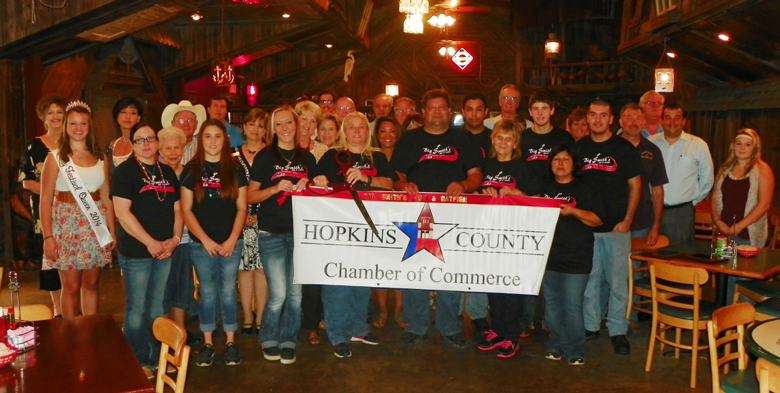 Would your organization like to raise a little money?
The Stew Committee for the Chamber of Commerce has decided to offer a great opportunity for an organization looking to raise money. This year, we would like for a group or organization to take over the selling of drinks at the Stew Contest on October 25th. If your group would be interested, please call the Chamber by September 5th to let us know. The only way we could figure out a way to be fair, is to have a Blind Draw. All organizations will go into a drawing and the one that is drawn will be the one who sells drinks at the Stew Contest. There will be several requirements that must be met: 1) Must man 3 drink stations 2) Must have adequate volunteers to work Friday and Saturday 3) Must have t-shirts or some other "identifier" so visitors will recognize your group as the "drink sellers". Group t-shirts will be fine. Once a group has sold drinks at the stew contest, they will not be eligible to sell them again the next year. If you have questions, please call the Chamber at 903-885-6515.
Please note…NO others items may be sold on the stew grounds.
Stew Deadline is Friday, September 19th to re-claim your stew site! Get forms turned in TODAY!
Mark your calendars NOW for the World Champion Hopkins County Stew Contest, Saturday, October 25th!
Cooks, please be checking your mailbox for your registration forms for the stew contest. If you cooked stew last year, you will have until September 19th to re-claim your stew site. On Monday, September 22nd, all unclaimed sites will be up for grabs. If you have never cooked stew, but would like to, you may stop by the Chamber office at 300 Connally Street and pick up the information.
Sponsors, you too should have received sponsorship forms in the mail last week. All sponsorships are available on a first come, first served basis, so if you want to sponsor something specific…get your forms in EARLY!!!
For more information, please call the Chamber at 903-885-6515.
Business After Hours at Lone Star Surgery, TONIGHT, September 4th at 5:00pm
Business After Hours on Thursday, September 4th at 5:00pm. We will re-take the ribbon cutting picture and have a GREAT time! They will have tons of appetizers, beverages and prizes so please make plans to attend! Dr. Lennington will have free varicose vein screening!!! Lone Star Surgery is located at 1216 Church Street. For more information, please call 903-885-2820.
2nd Annual Run for the Toilets, Saturday, September 6th @ 8:00am!!!
It's time to make a dash for cash, to do #2 and run for the lieu! Yes, it's time for the second annual Run for the Toilets!! The run will be Sept 6th at 8:00 am. This year's packet pickup reception will be at Healing Hands Spa on 517 Main St from 6:00 to 8:00. You can save money and have more fun running as a team, and teams will again be listed on the shirt if registered by Aug 25th. There will again be a post-run potty party while we calculate the payout and write the checks. They will again be running to benefit water.org and buy toilets where they are desperately needed, but this year they are splitting the benefits between this global cause and our local CAN HELP! So do #2 for twice the good!
Registration is available in town at East Texas Gymnastics (next to Bealls) and Healing Hands Massage or online at http://www.rctregister.com/Search/event.aspx?id=28764. For more information please call Frannie Miller at 903-440-5644