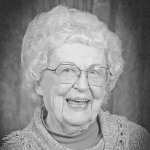 Billie Loraine Cook Loftis, age 91 of Sulphur Springs, died at 11 p.m. Sunday, September 21, at Rock Creek Nursing Home in Sulphur Springs. A Memorial Service will be held at 2 p.m. Thursday, September 25, at First United Methodist Church in Sulphur Springs. Graveside (Memorial) marker will be at the Farmersville, Texas IOOF Cemetery
Billie was born Sept. 15, 1923, in Josephine, Texas to Lyle and Elsie Cook, who preceded her in death. She was the oldest of three children. She is survived by a younger sister, Lucille Cook Sedgwick and husband, Stan, of Lubbock and preceded in death by her younger brother, Frederick Lyle Cook of McKinney, Texas.
Billie was valedictorian of her class, an avid tennis and basketball player in high school and at North Texas College, and was pianist for the Josephine Methodist Church before leaving home to marry Ripley Scott Loftis on October 3, 1942. She served her country during WWII by working in a defense plant in Dallas, Texas while Rip served overseas with the Navy. Billie became an avid Aggie fan as Rip earned degrees at Texas A&M University while they lived at College Station. Rip and Billie later lived in Dallas, Bonham, and then Mount Vernon, Texas as Rip pursued a career with the Texas A&M Extension Service and Billie was busy with their four daughters. She helped organize a Camp Fire Girls Organization in Mount Vernon and was a leader for many years. She also enjoyed working at the Mount Vernon Optic-Herald for her dear friends and owners, Jimmy and Tish Bass. The family moved to Overton, Texas in 1967, where Rip was District Agent at the newly opened Texas A&M AgriLife Research and Extension Center. Rip preceded Billie in death in 1975. They were married thirty-three years. Billie moved to Sulphur Springs, Texas in 2012, to be near her daughter and caregiver, Cynthia Loftis.
Billie is survived by her four daughters: Diane Loftis Frampton and Jerry Daniel of Carrollton, Texas; Cynthia Ellen Loftis and John Bradberry of Sulphur Springs, Texas; Debby Loftis Helton and husband, Wayne of San Antonio, Texas; and Kathy Loftis Riley and husband, Jay of Plano, Texas. She is also survived by a daughter that she considered her own, Pat Bass Wright of Mount Vernon. She was always her daughters' most loyal and fervent supporter.
Billie was very active in the First Methodist Church of Overton. She was a member of the handbell choir and served on the Board of Stewards and the Family Life Committee. She also continued to support the First Methodist Church of Josephine throughout her life. She volunteered with Senior Citizens in Overton and managed their transportation program for several years. She supported Overton schools with their fundraising activities and recruited her family and friends to join her in whatever she was collecting for extra school funds. She was a loyal supporter of many charitable organizations including the Boy Scouts of America, the American Cancer Society, and the National Multiple Sclerosis Society. She was dubbed the "Green Queen" by her daughters because of her diligence to recycle long before it became fashionable to do so.
She contributed to the written histories of the Josephine Methodist Church and her own Jordan family history published in 2007.
She was a sharp and competitive bridge and mahjong player, a champion crossword and Sudoku puzzle solver, and loved to fish.
Billie will be missed by her four grandchildren: Tricia Frampton Houck and husband, Bob, of League City, Texas; David Scott Frampton and wife, Gaja, of Portola Valley, California; Lorie Underwood Young and husband, Daniel, of Rockwall, Texas; and Marine Gunnery Sergeant James Underwood III and wife, Angela, stationed at Camp Pendleton, California.
She is survived by seven great grandchildren: Zoe Jean Young, Breanna Gene Underwood, Alexander Michael Frampton, Noah James Young, Killian Ripley Underwood, Evan Jonathan Frampton, and Kyra Lilijana Frampton. She will also be missed by her four nieces: Lisa Sedgwick Guss, Gena Sedgwick Hoffman, Lyla Sedgwick Kehr, Christi Sedgwick Baker and their families.