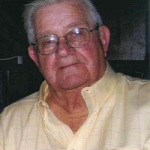 Bailey Lee Toliver, 87, longtime resident of Haskell, Texas passed away at noon on Wednesday, September 10, 2014 with his family at his side. Services will be held at 2:00 p.m., Sunday, September 14 at the First Baptist Church in Haskell with Reverend Morris Johnson officiating.
Bailey was born to Ardonia (Josselet) and Luther Toliver on the family home place north of Haskell. Bailey graduated from Weinert High School and joined the US Army serving in the Korean Conflict as Sargent of the Corp of Engineering. Following his discharge from the Army, Bailey returned to Haskell to the land he loved and was fortunate to meet his wife, Nancy Burton. After marrying Nancy, together they entered Texas Tech University where he graduated with a B. A. Degree.
In the spring of 1957, Bailey, Nancy and their young family returned to Haskell where he began his career as a Chevrolet Dealer, Farmer and Cattleman. Through the years, Bailey served his community in multiple roles as President of the Chamber of Commerce, organizer and first President of the Kiwanis Club, FFA Sponsor, Boy Scout Leader and as an active member of the Baptist Church. In 2009, Bailey was honored by "General Motors 50 Year Service Award" to his community and customers. Bailey returned to his roots by continuing the family legacy established by V.J. Josselet, his grandfather. In 2004. Bailey, Nancy and their four children formed the "Bailey Lee Toliver Family Partnership," which was awarded the "100 Year Land Heritage Award" from the State of Texas, known as "Josselet Switch."
Bailey is survived by his wife of 62 years, Nancy and their four children and families.
Daughter Lee Ann and husband Robin Colbert, parents of Gates Colbert M.D., and Julee Ann and her husband Will Riley.
Sons: Brian Toliver and wife Leesa, parents of Brent and wife Susan, parents of Claire and Will, and Jonathan and wife Sally, parents of Davis.
Joseph Toliver and wife Caroline, parents of Chelsea, Marcus, Eric, and Emma.
Sam Toliver and wife Julie, parents of Shelton and Bailey Ann.
One sister, Lucille Pickering of Lubbock, Texas and many Toliver and Josselet nieces, nephews and cousins.
Visitation will be held Saturday, September 13 from 6:00 p.m. to 7:30 p.m. at the Smith Family Funeral Home in Haskell located at 304 N 2nd Street.