North Hopkins students will return to classes on Monday, August 25th. Elementary "Meet the Teacher" will be held on Thursday, August 21st at 6:00 p.m. in the school cafeteria.
The Weir family participated in My Bowl, a fundraiser for the Special Olympics bowling team, on the weekend of August 2nd. Yvonne reports, "Dustin, Natalie, and Dakota Weir and Ashley Cline were on our team." Their team name was Weir Wesley's Oddballs. Destri helped them make a sign the week before and they had red t-shirts featuring their team name. Yvonne says, "We didn't win any bowling prizes, but had a blast!" Wesley was on a team with other Special Olympians.
On Friday, August 8th, Robert, Yvonne, and Wes went to Dallas for the night. Dacy, Elise, and Eli Campbell, and Destri Weir visited them and they all had a good time in the pool. They shopped some on Saturday and Yvonne commented that "for a tax-free weekend, it wasn't crowded at all."
Kim Beck reports that she and Lee are "sending kids back to college!" She says, "Jason Beck is heading back to UT Austin to begin his Senior year as Naval ROTC Battalion Commander. Hook 'em Jason! Jackson Dailey is Commerce bound to start his Junior year as Student Government President at Texas A&M- Commerce. Go Lions!"
Don't forget about the Hot August Night BBQ Cook-off and concert at the Hopkins County Civic Center this Saturday, the 16th, benefiting county volunteer fire departments. The BBQ grounds will open at 1:00 p.m., with cooks preparing their entries, vendors and a kids' zone. Serving of the BBQ meal will begin at 5:00 and the Phil Vassar concert will start at 7:00, inside the civic center arena.
On Saturday, August 2nd, Chip and I attended a birthday party, honoring Jerry Petty, at the Dike Baptist Church. A large crowd attended and enjoyed the delicious buffet. Our community was also represented by Mick and Linda Petty and Rick and Judy Petty – Jerry's cousins.
After we left the party, we drove to Mesquite and met our son, Delayne Vaughn, of Waco, and treated him to dinner at Razoo's for his birthday, which was on the 1st. Following the delicious meal, we went to Linda Ellen Vaughn's house in Dallas and shared the birthday cake that we had taken.
Tiffany Peugh, Morgan, Kenden, and Jaidyn Joslin and Chip and I went to East Texas Gators and Wildlife Park in Grand Saline on Friday. We enjoyed holding some of the animals, including an alligator, skink, ferret, and snakes. We watched the feeding of the alligators and walked around the grounds viewing the other animals. Jaidyn enjoyed jumping in the bounce house and the boys competed at rope climbing. The baby camel, that was wandering among the guests, tried to join us for our picnic lunch! That afternoon, we drove to Holly Lake Resort and enjoyed swimming and playing games.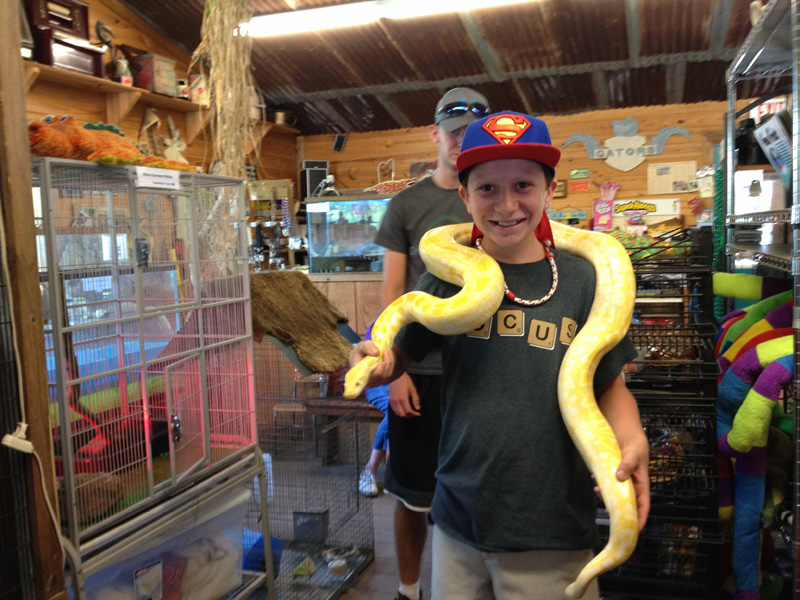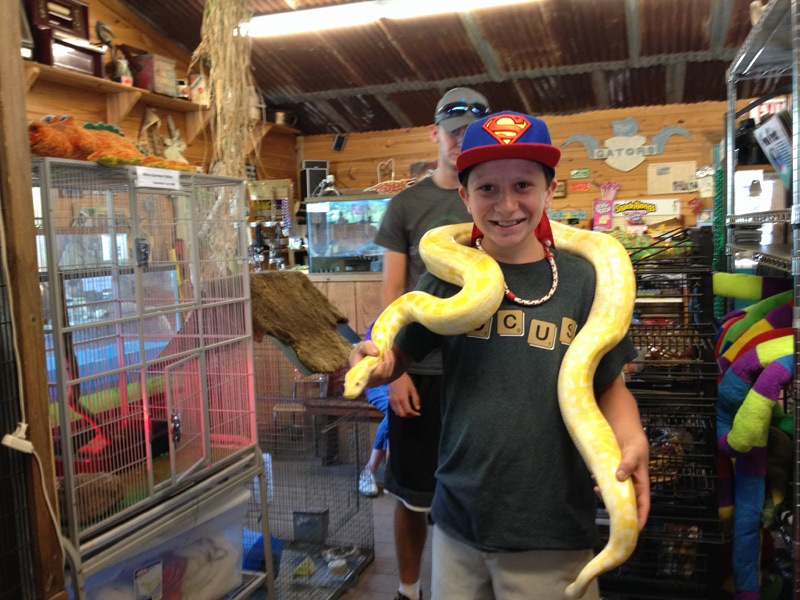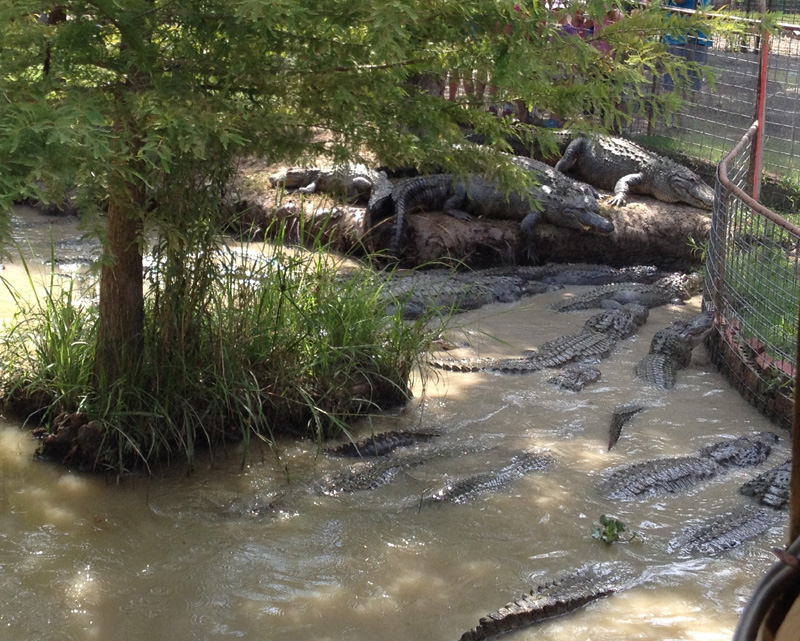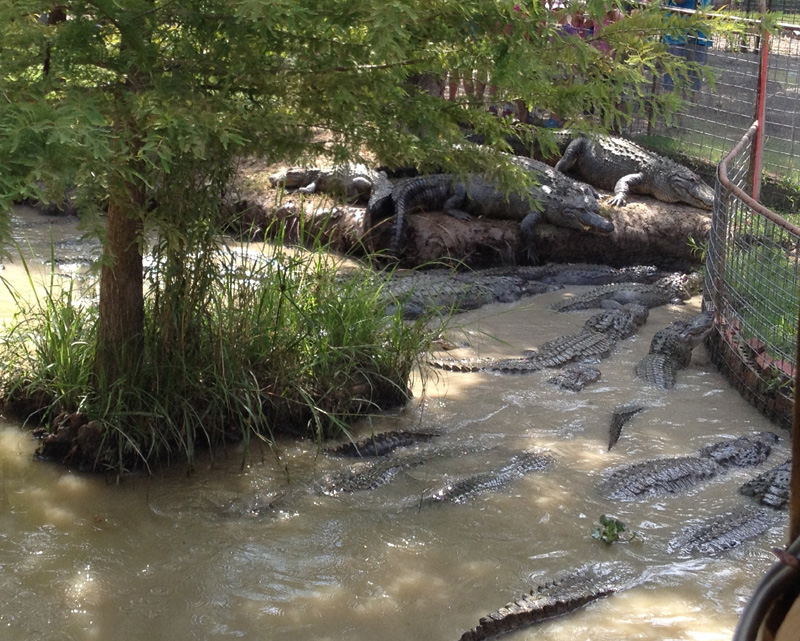 Jacob, Tyler, Collin, and Jakota Peugh wanted to have some "boy time" and they invited Tommy Beck over to watch wrestling with them, while Tiffany & the kids were gone.
As we returned from our trip on Saturday, we dropped Kenden off at the recreation center at Texas A&M-Commerce, for a party with his baseball team, and then I took Tiffany and Jaidyn to a birthday party at Jerry's Jump Zone in Sulphur Springs. I went home just long enough to unload the car, and then I went to the wedding reception for John and Stephanie Long, at the North Hopkins School Cafeteria. Later that afternoon, Chip and I attended a college graduation party for our nephew, Brian Vaughn, at Davis Street Baptist Church's fellowship hall, and from there we went to The Way Church for the 40th Anniversary Party for Ronnie and Susan Collins.
I always need and appreciate input from my friends to help keep me informed of news in our community. If you have any news pertaining to Tira residents, past or present, please contact me, Jan Vaughn, at 903-945-2190 or 903-438-6688 or [email protected]