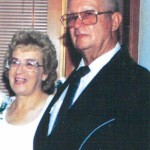 Betty Jane Dymke, 82, of Emory, passed away Sunday, August 10, 2014.
A shared memorial service for Mrs. Dymke, and her husband, Homer "Buddy" Dymke, who passed away on July 17, 2014, is scheduled for Saturday, August 16, at 4:00 PM at the House of Prayer Church in Emory, Bro. Matt Miller officiating. Both cremation arrangements and the memorial service for Mr. and Mrs. Dymke will be under the direction of Wilson-Orwosky Funeral Home of Emory. Online guestbook may be signed at www.wilsonorwoskyfuneralhome.com . In lieu of flowers memorial bequests may be made to the House of Prayer Church, 1380 Hwy 515 East, Emory, TX 75440.
Betty Jane Dymke was born in Galveston on December 2, 1931, to Oscar D. and Minnie Louise Brooks Williams. She married Homer Thomas "Buddy" Dymke in Galveston on July 23, 1949.
Together with her husband they owned and operated the B&B BBQ in Kermit, Tx.
Survivors include:
2 Sons: Tommy Dymke, and wife, Beverly, of Flower Mound and Ricky Dymke, and wife, Alva "Cookie", Sachse
2 Daughters: Diana Fearn, and husband, Joe of Kermit and Candy Dieterich of Alburquergue, NM
Sister: Onita Lalosevich
Grandchildren: Melanie Giglio, Evan Dieterich, Sean Dieterich and R.J. Dymke
Great-grandchildren: Delilah Dieterich, HarLeigh Dieterich, Daylene Romero, and Adrian Garcia
Extended friends at Steamboat Shores
Numerous other loving family and friends
Preceded by: Husband, Buddy Dymke in July 2014, parents, step-father