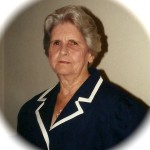 Funeral service for Sally Ann Dittman, age 96, of Emory, will be held at 10:00 am, Tuesday, Aug. 26, 2014, at Wilson-Orwosky Funeral Home Chapel.Bro. Billy Smith and Bro. Jerry Jackson will officiate.  A private burial in Slatter Cemetery will follow the service.  Visitation will be held on Monday evening from 6:00 until 8:00 pm at the funeral home.
Mrs. Dittman died in the early evening on Friday, Aug. 22, 2014.She was born on March 8, 1918, in Mississippi to Lonzo Jackson and Willie Lee Reynold Ray.After marrying James Monroe "Ned" Dittman on November 9, 1934 in Mississipi, they moved to Emory to start a family.Mrs. Dittman worked as a field hand for several different farmers in the Rains County area.  She worked very hard to support and raise her 6 children.
Survivors include:  3 daughters:  Earnestine (Tina) Florez, Fannie Hill (James), both of Emory; and Joyce Smith (Tommy) of Grand Prairie,1 Son:  James Fredric Dittman of Wills Point,4 Grandchildren:  Amy Friddle, Charlotte Stewart, Jerrell Dittman, and Danny Mike Dittman, Great-grandchildren:  9,Great-Great-grandchildren:  3,Special care givers:  Shandra Beck, Julie Blow, and Jessica Bibby,Numerous other loving family and friends.
Preceded by:  Parents, former husband; 1 daughter: Thomasene Payne in 1987; 1 son: Jack Dittman in 2009; 4 grandchildren:  Robert Robertson, Dean Robertson, Fredric Dittman, and David Dittman; 1 brother: Lonzo (Sonny) Ray; and 1 sister:  Edith Edwards