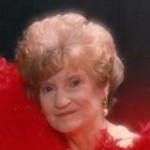 Funeral Services for Shirley Fouse, age 72 of Sulphur Springs, will be held at 2:00 p.m., Wednesday, July 23, 2014 at Trinity Harvest Church of God with Rev. Ray Evers officiating. Interment will follow at Posey Cemetery. Visitation will be from 12:00 (Noon) to 2:00 p.m., prior to the service.
Mrs. Fouse died on Sunday, July 20, 2014 at her residence. She was a retired nurse. She was a member of the Trinity Harvest Church of God.
She was born on November 29, 1941, the daughter of Johnsie L. and Nezzie Westbrook George in Sulphur Springs, TX. She married H.C. Fouse on January 22, 1959 in Oklahoma. He survives.
Other survivors include: daughters, Jean Ann Fouse of Sulphur Springs, Karen Huskey of Judsonia, AR and Amanda Fountain of Sulphur Springs; sons, William Fouse of Arlington and David Fouse of Beeville; sisters, Flora Hicks of Sulphur Springs and Rosa Lewis of Austin; brother, Bobby George of Brinker; grandchildren, Amber Cook and Billy Husky, Jr.; great-grandchildren, Payton Huskey, Christian Huskey, Christopher Hernandez, Julio Hernandez, Kylie Cook, Jackson Pace, Desarae Fountain, Cameron Fouse, Jorden Pegg, Preston O'Neal, Savanna Wilson and Angie O'Neal.
She was preceded in death by her parents, two sisters and one brother.
The online register can be signed at: www.murrayorwosky.com