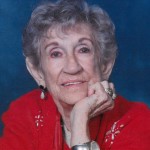 Graveside Services for Mary Wilbur, age 93 of Canton, will be held at 2:00 p.m., Friday, August 1, 2014 at Restlawn Memorial Park with Rev. Jonathan Smith officiating.  Interment will follow with Garrett Willmon, Nolan Willmon, Rickey Robinson, Randy Willmon and Ronnie Mackey serving as pallbearers. Visitation will be from 6:00 – 8:00 p.m. on Thursday, July 31, 2014 at Murray-Orwosky Funeral Home.
Mrs. Wilbur died on Monday, July 28, 2014 at her residence.  She was a member of Grace Family Church in Canton, TX and a retired barber.
She was born on January 18, 1921, the daughter of J.M. "Chat" and Nora Henderson Chapman in Tira, TX.  She married Jack Mackey who preceded her in death in 1963.  She is survived by her loyal husband of thirty-seven years Frank Wilbur.
Other survivors include: daughter, Jackie Robinson of Canton; sister, Leveta Watson of Mesquite; brothers, Grady Chapman of Coppell and Larry Lance Chapman of Longview; grandchildren, Michelle Willmon, Rickey Robinson, Ronnie Mackey, Jack Mackey and Robert Mackey, Jr.; great-grandchildren, Garrett Willmon, Nolan Willmon, Jake Robinson, Maverick Mackey, Maguire Martin, Hayle Mackey, Melody Mackey, Cody Mackey, Amy Mackey; great-great-grandchild, Wyatt Willmon and host of nieces, nephews and beloved friends.
She was preceded in death by her parents; son, Robert (Bob) Mackey, Sr.; sisters, Myrza Watson, Ruth Butler, Frances Coe and Grace Green; brothers, George Chapman, Tommy Chapman, B.J. Chapman and Gerald Wayne Chapman.
In lieu of flowers, memorials may be made to the Van Zandt County Veterans Memorial (www.vzcm.org) located at 1200 S. Trades Day Blvd. #600, Canton, TX 75103 or Grace Family Church, 1953 Mill Creek Rd, Canton, TX 75103.