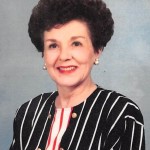 Gena Dell Caruthers , the daughter of James Charlton Tapp and Nona Dell Bridges was born August 28, 1933 in Sulphur Springs, TX. She passed away on Friday, July 11 at The Hamptons Senior Living Community in Tyler.
Gena Tapp received her Cradle Roll Certificate as a member of the First Baptist Church Sunday School on August 30, 1933, where she was a church member until her passing. She graduated from Sulphur Springs High School in 1950 and attended TCU where she was a cheerleader and worked as a model for Neiman Marcus Department store. TCU met SMU and on July 15, 1953 she married John Morris Caruthers in the home of her parents at 330 North Davis in Sulphur Springs.
Ms. Caruthers is survived by four children who live in Texas: Johnny Caruthers of Tyler, Kim Gray of Georgetown, Amy Russo of Flint, and Jim Caruthers of Tyler. She is also survived by eleven grandchildren and eleven great grandchildren. "Memaw" is affectionately remembered by her grandchildren for always keeping track of their birthdays and sending cards to them on their special day.
Visitation will be held on Thursday, July 17 from 5:00 – 8:00 at West Oaks Funeral Home. The funeral service will be held on Friday, July 18 at West Oaks at 1:30 p.m.
Memorials can be made to Hospice of East Texas, Tyler or the American Cancer Society. Ms Caruthers was a breast cancer survivor and was passionate about helping other women diagnosed with breast cancer and supporting the cause for finding a cure.
Arrangements are under the direction of West Oaks Funeral Home.