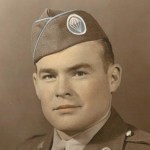 Francis Exum (Will) Williamson went home to be with our Lord on Thursday, July 17, 2014, at the age of 93. He was a barber and at the age of 88, after cutting hair for over 60 years, he retired. He served in the U.S. Army in World War II as a Paratrooper that jumped on D-Day and was a POW for 7 months. He was also a Mason.
He was born on November 7, 1920, the son of Radford Turner and Hattie Ruth McFadden Williamson. He married Eva Lee Vickers, the love of his life, on January 24, 1942 in Dike, TX. She preceded him in death in 2006.
Funeral Services will be held at 10:00 a.m., Tuesday, July 22, 2014 at the First Baptist Church of Richardson with Pastor Ellis Orozco and Rev. Gerald Ware officiating with Charles Hayes, Garry Hall, Gary Williamson, Gerald Garner, C.J. Davis, Billy Williamson, Glynn Williamson, Joe Bob Burgin and R.C. Burgin serving as pallbearers. Military graveside service and interment will be in the Restlawn Memorial Park on Tuesday, July 22, 2014 at 3:00 p.m. Visitation will be from 11:00 a.m. to 2:00 p.m., Monday, July 21, 2014 at Murray-Orwosky Funeral Home.
Survivors include: daughters, Carolyn Hayes of Plano, Janet Vickers and husband, Larry of Como and Debra Williamson of Richardson; son, Benny Williamson and wife, Cathy of Lewisville; brothers, Billy Williamson of Clarksville and Glynn Williamson of Ashdown, AR; grandson, Charles Hayes and wife, Cindy and one great-granddaughter, Cate Hayes. He was preceded in death by his parents, two brothers and two sisters.
Memorials can be made to the Wounded Warrior Project or First Baptist Church of Richardson, 1001 North Central Expressway, Richardson, TX 75080.
The online register can be signed at: www.murrayorwosky.com