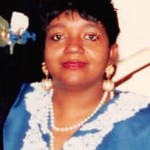 Cynthia Kajuana Clayton Perry was born in Sulphur Springs, TX on February 21, 1955 to the parentage of Elgie and Cassie Clayton Sr. She entered into eternal rest on July 19, 2014, at her residence surrounded by her family. She accepted Christ at an early age and was a faithful member of the St. Luke Missionary Baptist Church.
She married Charles F. Perry on July 23, 1971. To this union three children were born. She attended Sulphur Springs High School. She was employed by H.D. Lee, Southern Optical, and Morning Star. Her love and devotion has been felt by her husband, children, grandchildren, family, friends, co-workers, and so many others that may have only known her for a short time. She was an amazing wife, mother, grandmother, sister, confidant, and friend.
She leaves to cherish her love and precious memories: her loving husband of 42 years, Charles F. Perry; daughter, Ericka Perry, sons, Christopher (Gwen) Perry, Damion (Catisha) Perry; sisters, Teresa (Alton) Nelson, Donna Washington, Cassie (Billy) Edwards; brothers, Paul Clayton, Jerry Clayton, Elgie (Bonnie) Clayton Jr., Vernon Clayton; five grandchildren, Jaylon, Tradarion, Aleya, Donovan, MaKenzie; uncle and aunts, and a host of nieces, nephews, cousins, other relatives and friends.
She was preceded in death by her parents, Elgie and Cassie Clayton, Sr. Funeral services will be held at 11:00 a.m., Friday, July 25, 2014 at St. Luke Missionary Baptist Church. Interment will follow at St. Luke Cemetery. There will be no formal visitation.
Arrangements are under the direction of West Oaks Funeral Home. www.westoaksfuneralhome.com