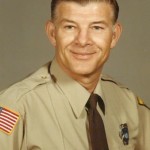 Funeral Services for Billy Glenn Crow, age 72 of Como, will be held at 10:00 a.m., Thursday, July 24, 2014 at Cross Spur Cowboy Church with Bro. Mike Eason and Lt. Shawn Kirkbride officiating. A military graveside service will follow at the Evergreen Cemetery in Paris under the direction of the Hopkins County Military Coalition. Serving as pallbearers are Andy Albritton, Thomas Albritton, Ryan Miller, Wesley Miller, Steven Savage and Shon Potter. Honorary pallbearers are Benney Matthews, Bob Short, Michael Hrbal, Frank Prock, Alan Mayo, Ronald "Squirrel" Willis, the TDC Night Shift, Nurse Jenna and the HCMH ICU Nurses. Visitation will be from 6:00 – 8:00 p.m., Wednesday, July 23, 2014 at Murray-Orwosky Funeral Home.
Mr. Crow died on Tuesday, July 22, 2014 at Hopkins County Memorial Hospital. He retired after 20 years of service in the United States Army. He then worked in Law Enforcement for 20 years. He retired from Hopkins County Sheriff's Department as Chief Deputy and then worked for Texas Department of Criminal Justice in Winnsboro as a Correctional Officer where he retired twice and went back and was currently working.
He was born on April 27, 1942, the son of William Lee and Eva Lou Henderson Crow in Hopkins County, TX. He married Elizabeth Anne Denney on January 21, 1985 in Hopkins County, TX. She survives.
Other survivors included: daughters, Shelia Jenkins and husband, Leroy of Sulphur Springs, Tracy Potter and husband, Shon of Rowlett, Kati Willhoit and husband, Richard of Chico, Tamera Crow of Baldknob, AR; son, Billy Crow and wife, Brittney of Erwin, TN; sisters, Sue Gravette of Como and Brenda Maxfield of Fruitvale; grandchildren, Andrew Albritton, Sarah Albritton, Thomas Albritton, Ryan Miller, Wesley Miller, Montonna Kearney, Steven Savage, Chris Crow, Brayden Crow, Amanda Hooks, Chris Hooks, Katlyn Willhoit and Nicole Savage; great-grandchildren, Colby, Skylynn, Harly, Serenity, Jacelynn, Stantyn, R.J., Levi, Savannah Grace and Savannah.
He was preceded in death by his parents and brother, James Crow.
The online register can be signed at: