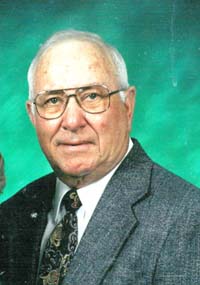 A funeral Service for William "Bill" Randle age 80, of Dike will be held at 10:00 a.m. Friday, June 13, 2014 at First Baptist Church of Sulphur Springs with Bro. Mike Skelton and Bro. Fred Lewis officiating. Interment will follow in Restlawn Memorial Park with Grandsons and Great-Grandsons serving as Pallbearers. With Ray Skelton, Randy Gyer, B.W. Frazier, Robert Frazier, Erwin Boyle, Clifford Randle, Marvin Randle, Don Randle and Chuck Creed serving as honorary Pallbearers. Visitation will be from 6 until 8 pm Thursday, June 12, 2014 at Murray-Orwosky Funeral Home.
Bill Randle died Wednesday, June 11, 2014 at his residence. He was born January 20, 1934, in Dallas to Alfred Ernest Randle and Adina Gebert. He married Linnie Frazier who preceded him in death in 2012. Bill was a retired cabinet maker and wood worker. He was a member of the First Baptist Church and served as a Deacon since 1955.
He is survived by daughters, Diana Gyer (Randy) of Dike, Patricia Skelton (Ray) of Sulphur Springs; brothers Clifford Randle, Marvin Randle and Don Randle all of Irving; sister Dorothy Creed of Coppell; Grandchildren, Jason Ashford, Josh Ashford, Steven Cooper, Patricia Cooper, Mike Skelton, Brandon Skelton, Jessica Heaton and Amber Jester , and nine Great grandchildren
He was preceded in death by his parents, one brother Charlie Randle and a daughter Carolyn Ashford and one great granddaughter Chloe Ashford.
Arrangements are under the direction of Murray-Orwosky Funeral Home.
The online register can be signed at: www.murrayorwosky.com