Thomas Jefferson "Jeff" Ivey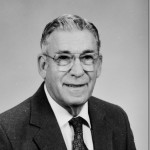 Thomas Jefferson "Jeff" Ivey, 93, of Rains County, passed away Monday, June 2, 2014, at his home. Funeral service will be held Thursday, June 5, 2014, 12:00 noon at the Wilson-Orwosky Funeral Home Chapel with visitation one hour prior at 11:00 AM. Bro. Joe Perkins will officiate. Interment will follow in Rose Hill Cemetery in Tyler.
Jeff Ivey was born on September 5, 1920 in Philadelphia, PA to Emmett L. and Rose LaMonica Ivey. He married Ruth Marie Human on May 2, 1945 in Tyler. They were married 69 years. She preceded him in death last week on May 22, 2014.
He proudly served his country in the United States Army in the South Pacific WWII. He retired from working as an electrical engineer at Texas Power and Light.
In lieu of flowers please make memorial donations to Honor Flight DFW at:
HONOR FLIGHT DFW
10455 North Central Expwy Suite 109-195
Dallas, TX 75231
Grandsons will serve as pallbearers.
Survivors include:
Son: Wayne Ivey, and wife Louise, of Rains County; and John Ivey, and wife, Kay, of Files Valley, TX
Daughters: Ruthie Wilson of Ames, Iowa; and Karen Fraser Moore and husband, Paul, of Quincy, IL
Grandchildren: 17
Great-grandchildren: Many
Great-great-granddaughter: 1
Numerous other loving family and friends.
Preceded by: parents; wife in May 2014; 1 granddaughter: Jennifer Bedell in 1990; 1 brother: Ramon Ivey