Jay Sanders Named Chief of Police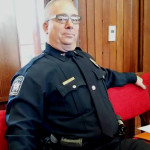 Patrol Captain Jay Sanders was appointed Police Chief by the Sulphur Springs City Council Tuesday night. Captain Sanders, a 26-year veteran of the department, began as a patrol officer in 1988 and has now worked his way to the top. He'll take over August 1 as current Chief Jim Bayuk moves over to the Sulphur Springs ISD Police Department. Captain Sanders says the department is in good shape in personnel and squad cars. He says some equipment does need upgrading.
Lt. Jason Ricketson of the Sulphur Springs Police Department seized 2.5 pounds of cocaine and 193 pounds of marijuana and arrested a Tennessee man Wednesday morning. Lt. Ricketson stopped an eastbound vehicle on I-30 at around 7 a.m. Wednesday. Lt. Ricketson said he could smell marijuana as he approached the SUV. The arrested man was not talking but Lt. Ricketson believes the drugs were picked up in Dallas or Houston.
Sulphur Springs Police Patrol Captain Jay Sanders says a six-year old boy who was seriously injured after being struck by a pickup while riding his bicycle Tuesday is expected to pull through. The boy, Logan Stephenson, who had broken bones and head injuries, was taken by helicopter to the Critical Care Unit of Children's Hospital in Dallas. The mishap occurred in the 900 block of Camp Street at 5:25 p.m. Tuesday. Captain Sanders characterized it as an accident where they did not see each other.
By Don Julian