Lorene Foley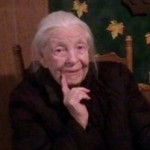 A graveside service for Lorene Foley, age 86, of Dike will be held at 11:00 a.m. Tuesday, June 17, 2014 at Conner Cemetery with Pastor G.W. Hood officiating, and Roy Taylor, Manuel Granados, Johnny Williams, Doug McKinney, Garrett McKinney and Kenneth Adams serving as pallbearers. Visitation is scheduled for 6:00 until 8:00 p.m. Monday, June 16, 2014 at Murray-Orwosky Funeral Home.
Lorene Foley died Saturday, May 14, 2014 in Hopkins County. She was born in Clarksville County on April 7, 1928, the daughter of Edward Parker and Lonnie Marie Hines. She married Freeman Foley in 1953, he preceded her in death. She was of the Pentecostal Faith.
Survivors include: sons, Bobby Foley of Sulphur Springs, Jimmy Foley of Nelta daughter Linda Blake of Sulphur Bluff and Patricia Blundell of Klondike, grandchildren; Jim Foley, Joe Foley, Ricky Blundell, Tina Luv, Rebecca Anderson, Mandy Adams, Jackie Blake and Sherie Howard and a host of great grandchildren, nieces and nephews.
She was preceded in death by her parents, brothers Jimmy, James, Ola and sisters Bessie and Dora.
Arrangements are under the direction of Murray-Orwosky Funeral Home.