Jan Oud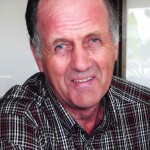 Jan Oud, age 73, died on Saturday, June 14, 2014. He was born November 3, 1940 in Westwoud, The Netherlands to Grietje Nierop and Cornelis Oud. On March 4, 1965, he married Gerda Marrees. He was brought up in the Netherlands and moved in 1986 to Pickton, Texas with his wife and children. He later resided in Saltillo, Texas. He is a dairy farmer and successful businessman. Jan will be especially remembered for his pioneering spirit, visionary outlook, work ethics and the tenaciousness that allowed him to achieve his dreams in many diverse endeavors.
Survivors include his wife, Gerda Oud, his children Kees & Irma Oud of Mt. Vernon, Margreet & Dan Bosman of The Woodlands, Ernst-Jan Oud of Pickton and Klaas & Chandra Oud of Sulphur Springs. Grandchildren are Megan, John, Natalie, Savanna and Case Oud, Cassidy Rae and Brandon Bosman, and Ashton, Dane and Ayla Oud. His great grandson is Colby Barker.
Condolences will be held at the West Oaks Funeral Home on Thursday, June 19 from 6pm till 9pm. Services will be held at 3 p.m., Friday, June 20, at the Pine Forest United Methodist Church with Pastor Beverly Olsen officiating. Burial will be follow at the Pine Forest Cemetery. Relatives and friends are welcome at the reception at the Pine Forest Community Center immediately following burial from 4:30 pm to 6 p.m.
Arrangements are under the direction of West Oaks Funeral Home. www.westoaksfuneralhome.com