City Managers Report 06/04/14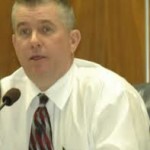 Water – Dredging continues at Cooper Lake; however, the quality of the water is still good enough to make Cooper Lake the preferential water supply. Dredging at Cooper Lake is approximately 20% complete. At this rate, dredging will not be completed until 2015.
Cooper Lake is 7 feet low, an improvement over last month's reading of 11 feet low. Judging from the graph at right, the North Texas Municipal Water District (NTMWD) has resumed pumping.
Sulphur Spring's water account is 94% full, despite the lake level. NTMWD's water account is 27% full. At the current rate they will have to stop pumping sometime in November.
STREETS – Davis Street is underway. The Davis/Connally intersection is completed. The remaining portion of Davis Street reconstruction from Connally to Atkins will be completed this month. The first concrete pour will be on Thursday.
Mulberry and Rogers are under construction thanks to a grant from the USDA. Both streets will be reconstructed in concrete. Mulberry Street is completed. Construction on Rogers will resume upon completion of Davis. The Capital Construction Division and the Water/Sewer Distribution Division installed water lines and sewer lines on both streets.
CLAIMS – We had two workers' compensation claims in May, one for a minor puncture wound stemming from a Taser incident, and the other from poison ivy.
We had three liability claims in May. One motorist struck a curb and thought it was the curb's fault. TML denied that claim. Another motorist claimed damages from a pothole. That claim was also denied. A police officer backed into a towel dispenser at a car wash. TML paid the liability claim and damages to the vehicle.
WASTEWATER TREATMENT PLANT – The wastewater treatment plant continues to struggle. The plant treated effluent to a daily average total suspended solids (TSS) reading of 10.53 mg/L in April. This number is within our permit parameter of 12.00 mg/L; however, we exceeded two other permit parameters for the month of May. The continuing industrial discharge from local industry combined is more than the plant can handle.
The filter project is completed. We are waiting for the vendor to perform final setup before putting the filter online. I expect to bring the filter online in the next two weeks. This project was performed in-house with labor from the Capital Construction Division and the Wastewater Treatment Division.
Now that our tertiary filter project is completed, the TSS number should improve substantially; however, other parameters like ammonia, biochemical oxygen demand and dissolved oxygen will not improve much. Other improvements are still needed at the treatment plant.
REVENUES AND EXPENDITURES – Finance Director, Peter Karstens is not here to present the year-to-date summary of revenues and expenditures. We'll catch up next month.
Elsewhere around the city, employees:
Treated 142 million gallons of drinking water.
Opened flood gates on Lake Sulphur Springs for 49 hours.
Flushed 35 dead-end water mains.
Performed preventative maintenance on high service pumps #1 and #3.
Re-painted water treatment clarifiers.
Performed extensive fix-up/ paint-up/ clean-up at wastewater treatment plant.
Sold 1,170 gallons of AvGas and 6,480 gallons of JetA fuel.
Made 10 felony arrests in the Special Crimes Unit.
Responded to 213 animal control calls and achieved a 94% adoption rate.
Checked out 2,382 items at the library with a door count of 3,775.
Repaired 14 water main ruptures and replaced 42 water meters.
Unstopped 29 sewer mains, and repaired 13 sewer mains.
Washed 75,000 feet of sewer mains.
Conducted confined space training for Water and Sewer Distribution personnel.
Made 10 sewer repairs following camera inspections.
Processed 703 citations through municipal court.
Responded to 127 fire/rescue calls including 3 structure fires.
Performed preventative maintenance of 80 fire hydrants.
Conducted 50 fire inspections.
Hosted 2 softball tournaments.
Aerated ball fields at Buford Park.
Patched 162 potholes.
Made 28 street repairs following utility repairs, 20 from Atmos.
Swept 19 streets.
Planted spring/summer flowers on Celebration Plaza and Main Street and Connally Street.
Conducted 9 health inspections, and investigated 16 code enforcement complaints.
Conducted 23 building inspections, 15 electrical inspections, 4 plumbing inspections, 2 mechanical inspections, and issued 29 building permits.
Responded to 39 accidents, made 97 arrests, wrote 694 citations and recorded 81 offences.