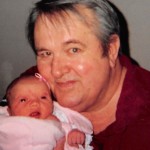 Funeral service for Bobby Floyd Dixon, 72, of Sulphur Springs, will be held at 2:00 p.m., on Thursday, July 3, 2014 at West Oaks Funeral Home Chapel with Rev. Bruce Stinson. Military graveside honors will follow at Reilly Springs Cemetery with Tom Dixon, Jr., Larry Reid, Scott Webb, Clyde Lee, John D. Dixon, Keith Hovatter, Robert McKenzie, and Ken Blanton serving as pallbearers. Honorary pallbearer will be Richard Brantley. Visitation will be held from 6:00 to 8:00 p.m., Wednesday, July 2, 2014 at West Oaks Funeral Home.
Mr. Dixon passed away on Sunday, June 29, 2014 at his residence. He was born on August 1, 1941 in Sulphur Springs, the son of Floyd and Willie Ruth Boggs Dixon. Bobby served in the United States Air Force and retired after 20 years. He married Jane Vaughan on October 4, 1958 in Hugo, Oklahoma. She survives. In addition to his wife, he is also survived by sons, Jeff Dixon and wife Joyce of Sulphur Springs, Glenn Dixon and wife Natasha of Sulphur Springs, daughter, Linda Dixon Butler and husband Mike of Greenville, brothers, Tommy Dixon and wife Linda of Sulphur Springs, Gene Dixon and wife Charlene of Alabama, sisters, Judy Sullivan and husband Kerniece of Leaksville, MS, Sandra Bowen and husband Dee of Leaksville, MS, grandchildren, April McKenzie, Jeffery Dixon, Leslie Dixon, Jesse Bowen, Cory Bowen, Bobby Lee Simms, Amanda Simms, Clint Butler, Bobby John Dixon, Jr., Lacy Kay Walden, Colten Dixon, Peyton Dixon, McKenna Lowther, Mattison Dixon, John Dixon, Jaden Dixon, Jailyn Dixon, and 15 great-grandchildren. He was preceded in death by his parents, son, Bobby John Dixon, Sr., and granddaughter, Skylar Dixon. Memorials may be made to Reilly Springs Cemetery, 1217 S. Broadway, Sulphur Springs, TX 75482.
Arrangements are under the direction of West Oaks Funeral Home.