Hopkins County Emergency Management officials reported 1 new positive COVID-19 case as of 5 p.m. July 28, after skipping one day without any new cases having been reported for Hopkins County. There have also been six additional patient recoveries.
There are three patients in the COVID-19 unit. No additional information about those cases was available, Hopkins County Emergency Management Coordinator Andy Endsley reported.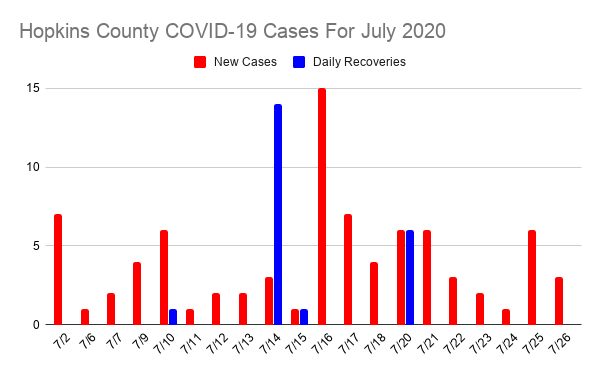 That brings the cumulative total of COVID-19 cases for Hopkins County since March to 146, with more than half of those cases reported this month.
During the first week of July, 10 new cases had been announced. New cases were reported every day from July 9-18, for a total of 45 additional Hopkins County residents testing positive for COVID-19, with 16 total recoveries. This week (July 20-26), 28 new cases and 12 recoveries were reported. That's 83 new positive COVID-19 cases reported in July in Hopkins County, but reports of only 28 recoveries this month.
Of the 146 Hopkins County residents who have tested positive for COVID-19 since mid-March, 78 have recovered, leaving 68 active cases of COVID-19 in Hopkins County on July 26.