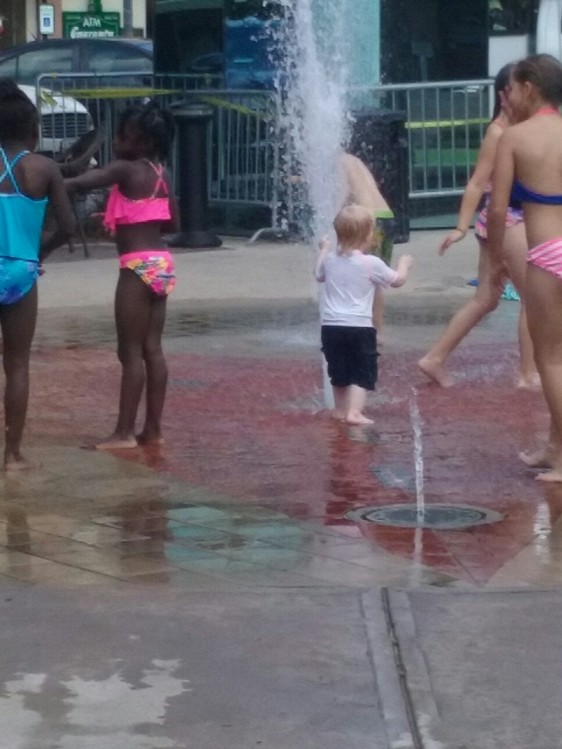 by Savannah Owens
The Splash Pad on Celebration Plaza is usually not thought of as the main reason for coming to the square. There are shops, businesses, restaurants, and even historical landmarks. The water feature was created as a space for the kids. But little do you know, the Splash Pad is actually a drawing point for a lot of families in the Hopkins County Area. The splash pad, combined with the other features of the newly revitalized square have revolutionized the Sulphur Springs Downtown area.
KSST met up with Pearless resident, Misty Bye, and her daughter, Samantha, (age 1 and a half), who were out enjoying all that the square has to offer. "It was my first time bringing Samantha to the Splash Pad at Celebration Plaza. She loved the water and enjoyed playing with the other children. It was nice, refreshing, family entertainment for a hot day. We'll definitely be back!"
Misty Bye also said she ate lunch on the square. "There were so many places to choose from on the square! We ended up eating at the Corner Grub House, and it was delicious! It's really great to see the influx of business and community togetherness that the revitalization has brought about."
The Sulphur Springs Christian Preschool's summer camp group, which is for children kindergarten through fifth grade, was also at the Splash Pad. Taylor Price, a student in the group was enjoying playing in the water, and proudly stated "I'm a 4th grader." She and the other students with the Christian Preschool Summer camp had a blast at the local feature on the square. For information on S.S. Christian Preschool's summer camp click here.
Check back for more celebration plaza events coming this summer!