September 1, 2023 – No public comments were received at the Paris Junior College Board of Regents' budget and tax rate hearing held on August 28, 2023. The Regents adjourned the hearing and opened their regular monthly meeting, approving both a new tax rate and the 2023-2024 budget.

The Regents considered the proposed tax rate of $0.071 per $100 and approved it. They then approved a 2023-2024 Budget of $37,001,700.

In other business, the Regents:

• Authorized the Administration to transfer up to $3 million to the Renewals and Replacements fund at the end of the fiscal year.

• Received a preliminary report on fall enrollment showing that the college was ahead of last year in unduplicated head count.

• Heard a report on licensure rates from the 2021-2022 academic year showing the College's student passing rates for state licenses and certifications.

• Received the President's Report giving an update on the PJC Cares faculty initiative. The next step is involving support staff in the project to improve student success rates. An update was also provided on changes for dual credit students mandated by passage of HB 8 in the recent legislative session.

• Accepted the employment report including the promotions/re-assignments of Katie Barnes as Financial Aid Assistant Director, Charle Fox as Adult Education and Family Literacy Career Navigator, and Rob Stanley as Vice President of Academic Instruction; the employment of Jewelry Faculty Ashton Henderson, Student Success Coach/Counselor June Combest-Tyler, Controller Debra Craig, Student Success Coach/Counselor Michelle Doan.
• Also, Adult Education and Family Literacy EL Civics Coordinator Ebru Turanil Lewis, Mathematics Faculty Sarah Morrison, and Speech Faculty Paige Myers; the resignations of Associate Degree Nursing Faculty Dwana Hollidai, Student Success Coach Elizabeth Joslin, and Coordinator of Student Records and Recruiting Norma Wright; and the retirement of Director of Library Services Joe Jackson.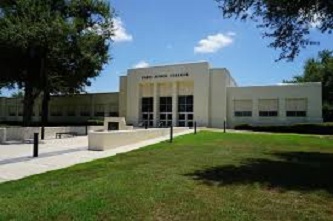 ---
Paris Junior College — located in Paris, Texas, about 100 miles northeast of Dallas — has been a part of the Lamar County community since 1924.
Paris Junior College offers Associate in Arts, Associate in Science and Associate in Applied Science degrees, as well as Certificates of Proficiency in technical/workforce fields. The college has expanded its academic curriculum through the years to encourage associate degree and university transfer candidates. Since establishing its first vocational program — jewelry and watchmaking in 1942 — the college has been aggressive in adding technical/workforce programs that will benefit students entering the workforce.
The campus of 54 tree-shaded acres includes 20 major buildings and residence halls and provides students a unique and pleasant environment for learning.
Paris Junior College also operates centers in Sulphur Springs, Texas, and in Greenville, Texas.
Vision
To be the educational provider of choice for the region.
Mission
Paris Junior College is a comprehensive community college serving the region's educational and training needs while strengthening the economic, social and cultural life of our diverse community.