The county judge was presented with a petition Monday asking him to call an election to let Dike residents determine whether to make the community at Type C incorporated city, as promised in prior meetings by Michael Pickens. Other Dike residents voiced their views on incorporation of Dike and the Dike solar facility.
Petition to Incorporate Dike
Residents and property owners in Dike community began researching the matter out of a desire to control what goes on in their community after they learned the Commissioners Court had approved tax incentives for a solar project planned in the Dike community.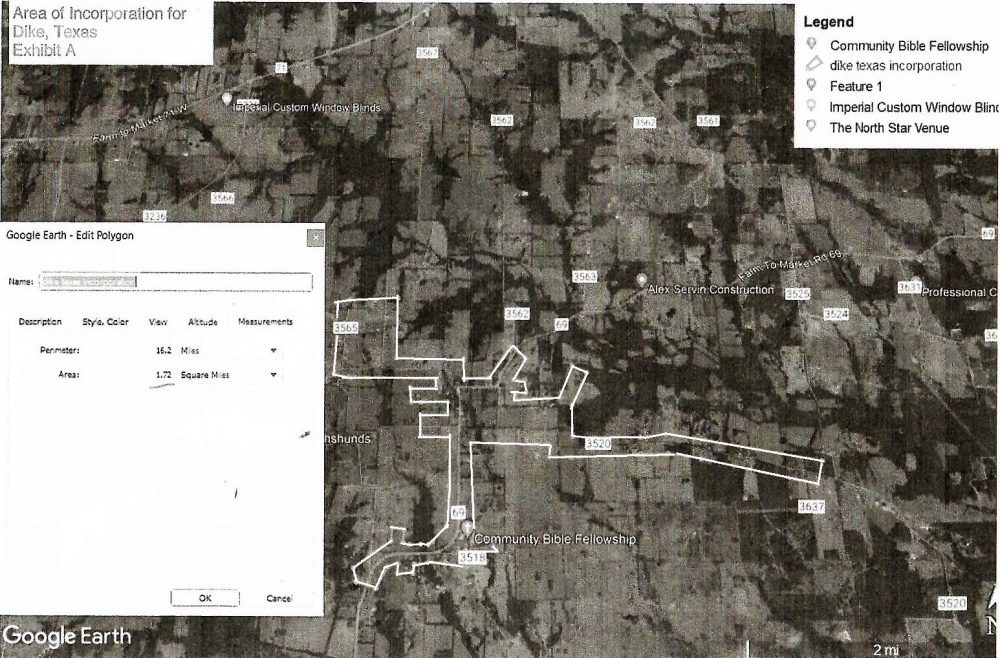 When speaking up in Commissioners Court and a community meeting hosted by Engie and Hopkins County failed to achieve the goal of residents seeking to stop the solar project from coming to Dike, an attempt to get an injunction and other legal action also was sought. The Dike residents opposed to the solar company leasing private land and installing a solar facility in their community organized.
Initially, the Dike residents voices a hope to incorporate before construction of the solar project began, but were not able to do so. Michael Pickens, spokesperson for Save Dike from Solar, advised the Commissioners Court and County Judge in previous meetings recently that the residents in opposition to the solar facility were working on the requirements to make Dike an incorporate area, so that Dike residents have a say in decision-making that impacts their community.
During Monday's Commissioners Court meeting, Kirk Reams read a letter drafted to Hopkins County Judge Robert Newsom, asking him to order an incorporation election, and appoint two election judges, and publish or post notice of the election as required, in accordance with Chapter 8 of Texas Government Code Chapter. He then presented the letter, along with a signed petition, and a map of the proposed area of Dike to be incorporated to the county judge.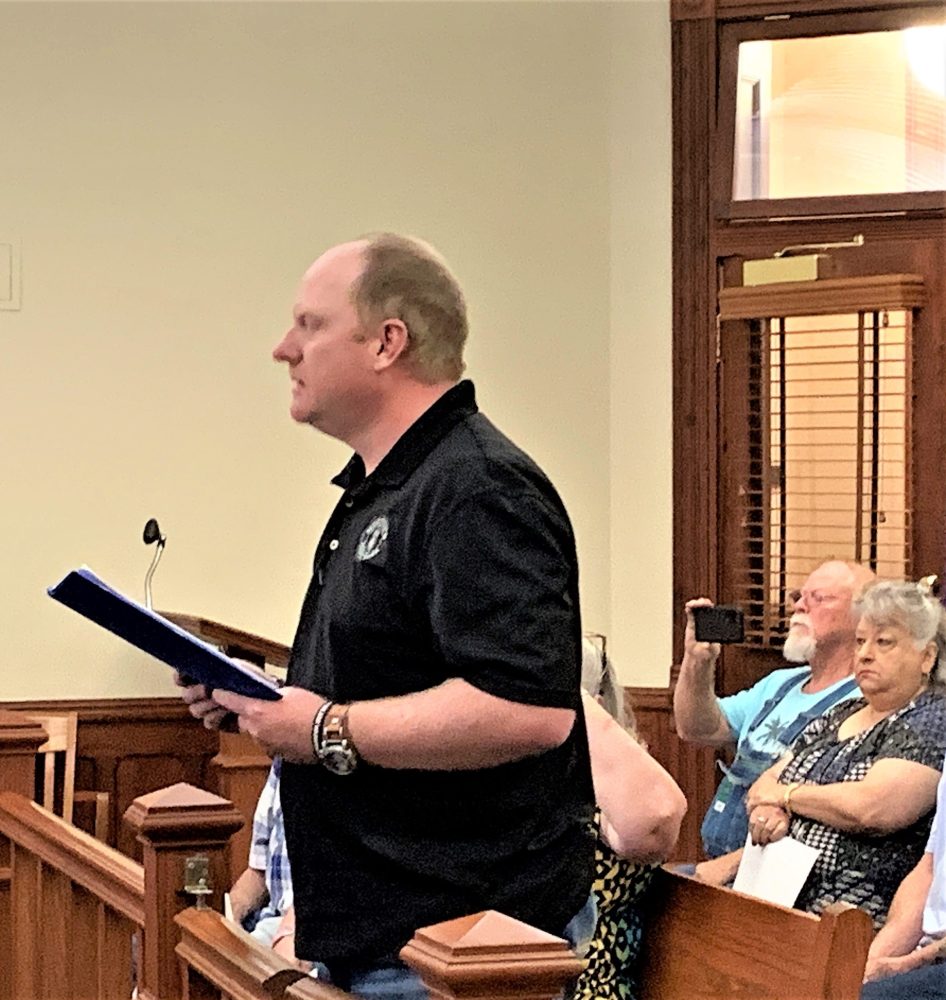 Reams noted Dike community was settled in 1850 and initially named Booneville. The first US Post Office was established in 1890, with the first postmaster sworn in by President Benjamin Harrison. The community name was changed from Booneville to Dike after residents discovered another town in Texas already existed. A public school operated in Dike in 1905. Dike had six general stores, a blacksmith and two physicians by 1914. In 1985, Dike had three churches, a US Post Office, a camp and 170 residents.
Currently, Reams reports, Dike's population falls between the requisite 201 inhabitants but less than 5,000. The map of incorporation charts 1.72 square miles, within which more than 201 but less than 2,000 inhabitants. He noted the petition presented to Newsom during the special 11 a.m. Commissioners Court session Monday, Aug. 15, 2022, contained signatures from more than the requisite 10% of qualified voters in Dike community, who reside within the incorporated area.
Reams then requested that the county judge order an incorporation election to be held as soon as legally practicable for Dike, which meets the requirements for a Type C City under the general laws of Texas. The request asks the judge to set a specific date and designate a place in the community for the election, then designate two election judges, one of whom would serve as presiding election judge. The letter petitioning for the incorporation election also asks that three names be added to the ballot for election to mayor and commissioners of Dike: Kirk Reams as mayor, and Betty Waters and Lucretia Pool as commissioners. The elected mayor and commissioners would serve until the first regular election for municipal officers could be held.
"At this time I'm going to present you with the papers that you need to incorporate Dike. This is a map of where the incorporation will be. Also, a map's in here," Reams said, and upon obtaining permission from Newsom handed the documents to him.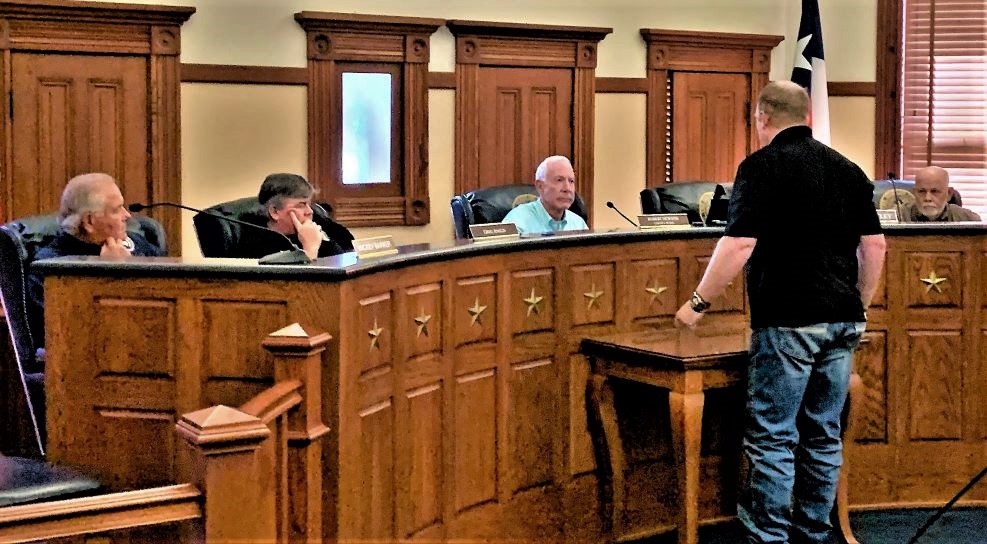 "It's a good day for Dike, Texas. We are excited that we can uphold our community, and keep this trash solar out of our community. I don't know what it is about you guys. You just won't step back and look at what our point of view is. All y'all see is the money, that's all you see," Reams accused with a shake of his head.
He then asked Precinct 3 Commissioner Wade Bartley, if the money was budgeted, why the road he asked him three weeks ago to fix hasn't been repaired, before retiring to his seat.
When presented with petitions such as the incorporation election, officially typically go through the process of making sure the document meets all terms as specified, then, take whatever steps legally follow.
Additional Related Comments
While several outspoken residents have addressed the court on various occasions regarding the planned solar facility and incorporation, not all Dike residents are opposed to the solar project nor are all in favor of incorporation.
Dike resident Michael Russell has lived in the area most of his life, and has served his country and community, first in the Marine Corps and for the last 10 years at Hopkins County Sheriff's Office, working his way up from deputy to investigator. He made clear where he stands on the matter of incorporation of Dike.
"I do not agree with incorporating Dike. Nobody can enforce the laws without law enforcement out there. The sheriff's office cannot go out there and enforce laws that are imposed by the city," Russell said.
He said while some people are for it, he is completely against incorporating Dike. He also said he was never contacted by anyone about incorporation or to sign the petition presented to the judge Monday morning.
Russell also added that while some "want to dog Mr. Bartley" he thinks he and the Commissioners Court do a good job. He said he realizes there's more to their jobs than maintaining roads, and understands that.
Dike resident resident Larry Argenbright, a retired Hopkins County Constable, noted that he and his family have been residents of Hopkins County for a long time. His family first settled in the area in the 1870s. His great-great-grandfather is buried in a cemetery in a pasture not far from his home. He was born in the clinic on the square.
"I've been here a while and I'm telling you this," Argenbright said of the solar facility, "will destroy our community."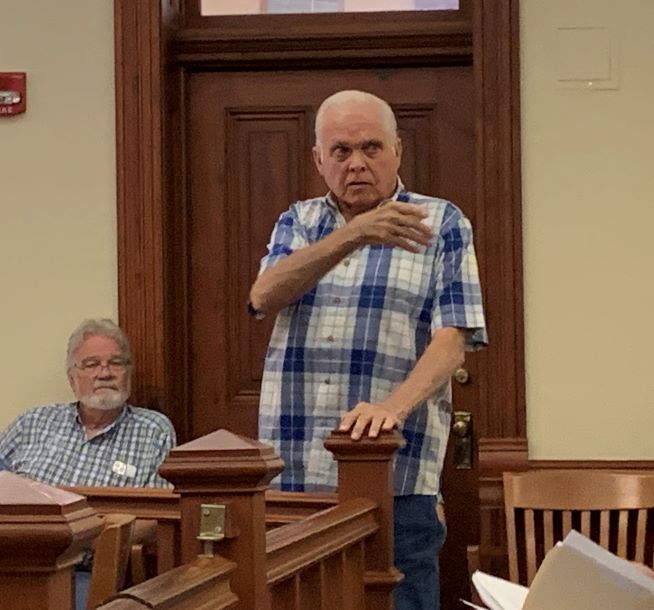 Argenbright cited a decrease in property values and noise from inverters, of which he's been told there will be 60-70, which make 85 decibels of noise. That noise, he said, will make Dike sound like it has a superhighway running through it.
"All I wanted to do when I retired, and I've met with this court many, many times, all I wanted to do is get over there and live, be left alone. Now, I've got health problems, probably because of y'all," Argenbright said, addressing the Commissioners Court, "and had to have a pacemaker put in. All I want to do is live and be left alone, that's all I'm asking: just leave me alone, please."