Scrap Metal Disposed Of Will Benefit Volunteer Fire Departments
The City of Cumby and Hopkins County are providing opportunities this weekend to allow residents to dispose of larger household items during designated Cleanup days. Both are strictly for residents; no commercial disposal will be accepted.

County Cleanup
The four county precinct barns will be open from 8 a.m. to 5 p.m. Friday, April 29, and from 8 a.m. to noon Saturday, April 30.
While county residents may bring may bring personal household trash, brush and certain appliances to the county barn of their precinct, no toxic or hazardous materials will be accepted. That means no tires, no shingles, no chemicals, no household hazardous wastes, no pesticides, no paint and no appliances containing Freon will be accepted during the county cleanup.
Those hauling large items are asked not to bring it in gooseneck trailers as it is difficult getting them in and unloaded. Commissioners typically some staff available to assist people when they arrive, but noted those bringing larger items to discard should be prepared to off load those items themselves.
Also, any metal items donated during the county's annual spring clean-up days will be scrapped, with funds received again designated to benefit the county volunteer fire departments.
The four county precinct barns will serve as collection sites for the Hopkins County Clean Up Days. The barns can be found at the following locations:
Precinct 1 Barn – 5516 State Highway 19 south, Sulphur Springs
Precinct 2 Barn – 12080 State Highway 11 east, Como
Precinct 3 Barn – 583 County Road 3564, Dike
Precinct 4 Barn – FM 2653, Cumby, 1.7 mile south of State Highway 11 west
For additional information about the county clean up days, including which items are and are not acceptable contact the commissioner for your precinct.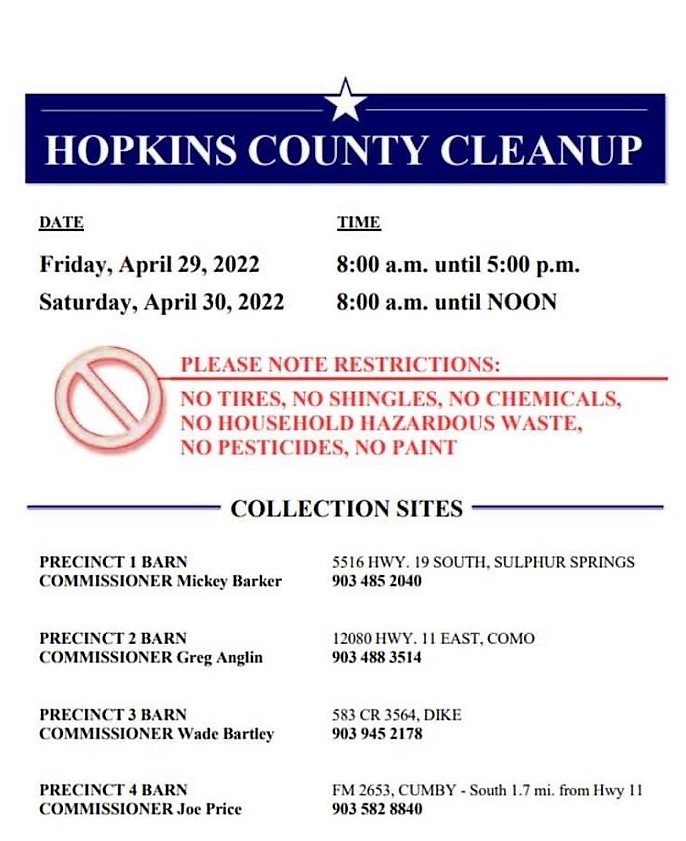 Cumby Cleanup
The City of Cumby 2022 Spring Cleanup continues from 9 a.m. to 5 p.m. April 28-30, for city residents only.
Two dumpsters will be placed inside the fencing of the City of Cumby Water Tank on Barker Street for use by residents of the City of Cumby. Those dropping off items should be prepared to present a copy of their City of Cumby water bill or a driver's license with the Cumby address.
While the dumpsters are provided for the convenience of residents who need to get rid of more items than will fill their trash cans during Cumby Spring Cleanup, there are some items that will not be allowed. No chemicals, paint, tree limbs, car batteries, tires or hazardous wastes may be disposed of in the city dumpsters.