Como-Pickton Student Reportedly Passed Away Wednesday As A Result Of Injuries
Area schools are coming together to show support for the family with two children and an adult care-flighted from a State Highway 11 crash Monday afternoon. One of the injured youths was reported Thursday morning to have died.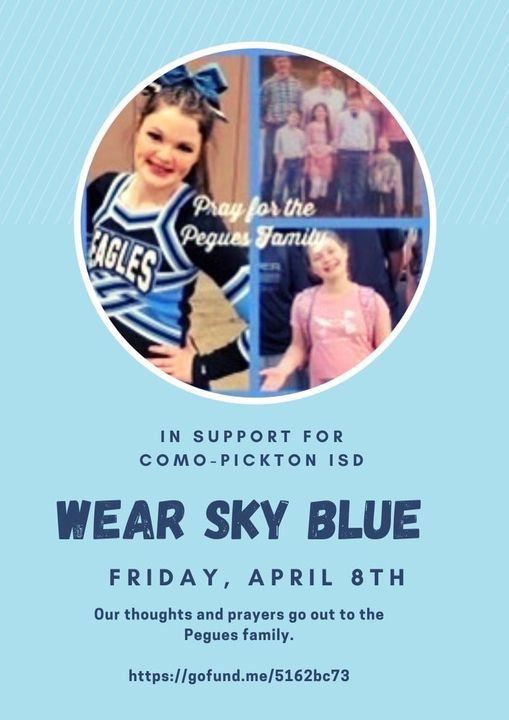 The April 4 crash involved three vehicles, an westbound 2016 Ford F-150 towing a trailer, the 2018 Ford F150 traveling behind it and an eastbound 2020 Chrysler Pacifica, all traveling on State Highway 11 east in Como at FM 69.
According to DPS reports, 45-year-old Jessica Pegues of Como failed to control speed in the 2018 Ford F-150 and struck the trailer attached to the 2016 F-150 driven by 48-year-old Wade Stuart of Gilmer, then struck the eastbound Chrysler driven by 32-year-old Markie Smith of Como. The 2018 Ford then rolled over into the bar ditch and caught on fire. In the vehicle with Pegues was a 9-year-old and 15-year-old Hannah Pegues, according to the April 8, 2022 Texas Department of Public Safety release on about the crash.
Three helicopters were requested and landed in the ball field near Como City Hall and Como Volunteer Fire Department's Station 2 to transport Pegues and the two girls to area trauma centers, one to Children's Hospital in Dallas and the other to a Tyler hospital. Jessica Pegues was reported to have been flown to another Tyler hospital for treatment of her injuries. The 9-year-old, identified by other sources as Adalyn Pegues, and Jessica Pegues were reported to have sustained serious injuries. Hannah Pegues died a few days later at the hospital, according to DPS and community reports.
The driver of the truck and trailer was not injured. The driver of the Pacifica was treated and released, according to the DPS release about the crash.
Both Hannah and Adalyn were enrolled at Como-Pickton CISD, where Hannah was involved in extracurricular activities. Before teaching at Winnsboro ISD, Jessica Pegues taught 7th and 8th math at CP for 10 years, has been a school bus driver and has served on the CPCISD Board of Trustees.
In a message to community members and posted Thursday morning, Como-Pickton Superintendent Dr. Greg Bower expressed to the Pegues family the deepest sympathies of the school board, administration, faculty, staff and students at the "untimely passing of our Hannah Pegues."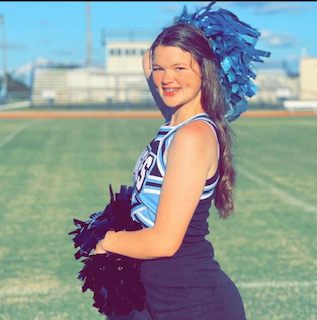 Bower further noted that CPCISD is providing psychologists, counselors, ministers, and extra staff to assist students and teachers through this difficult time of loss.
Many schools throughout the week, upon learning of the crash, also posted notices of sympathy and support for Como-Pickton and the Pegues family online. Several schools dedicated a day this week for their students and employees to don War Eagle blue to show support for the Pegues family.
Sulphur Springs, Cumby, Miller Grove, Saltillo, Sulphur Bluff, Mount Vernon joined Como-Pickton Friday, April 8, in observing "Sky Blue for Hannah" and Como-Pickton Day. Students and employees at those schools as well as community members were encouraged to show support of their friends at Como-Pickton school and the Pegues family by wearing Como-Pickton gear and/or C-P sky blue Friday.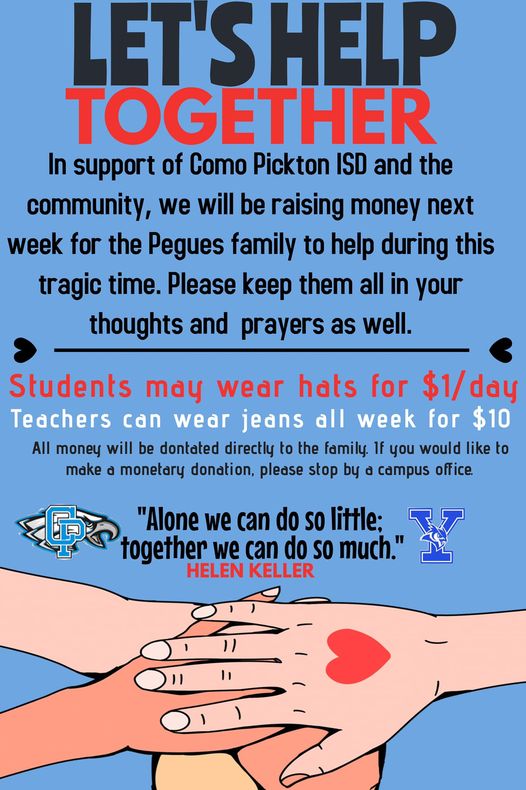 Miller Grove ISD and Sulphur Bluff ISD will also be collecting monetary donations to send to the Pegues family. Most on flyers about the day noted the Go Fund Me Account established for the Pegues family as well. Donations made through SBISD may be sent to school with students or contacting the office.
Yantis ISD launched "Let's Help Together," an effort to show support by raising funds next week to help the Pegues family and asks others to keep them in their thoughts and prayers. For $1 Yantis ISD students will be allowed to wear hats to school for the day. Teachers can wear jeans all week for a $10 donation. All funds raised will be contributed directly to the Pegues family. Monetary donations may also be made at YISD offices.
Saltillo ISD will be raising funds to benefit the Pegues family. Students may wear a hat to school for a donation of $1 a day. The district will be selling ice cream for $1 during all three lunches each day in the cafeteria. Monetary donations to benefit the family can be sent with a Saltillo ISD student to school or dropped off in the main office at Saltillo ISD through Thursday, April 14, 2022. District staff plan to present the funds to the family that afternoon.
North Hopkins ISD will show support for CPCISD in thoughts and prayers by paying $1 (or more) to wear pajamas and caps to school on Wednesday, April 13, 2022.
Several schools noted the online account set up on April 5 at https://gofund.me/5162bcs73 by Katie Tifft to accept monetary donation for the Pegues family. As of 1:05 p.m. Thursday, April 7, a total of 147 donations had been made bringing the total raised to help the Pegues family to $10,706.