At the Rotary Club meeting today, Sulphur Springs High School students highlighted several of the Career & Technical Education (CTE) programs of study offered at the school.
Students presenting information about the law enforcement program included Evan Patrick and Michelle Tijerin. Jasmin Kessler-Cordova, Priscilla Gaspar and Tyler Warner discussed the animal science program; while Amanda Hernandez, Orianna Arizmendez, Olyvia Palacious and Jeremy Resendiz. Additionally, Karen Martinez and Jack Bain discussed the entrepreneurship program and Tate Smith briefed the Rotarians about the architecture program at SSHS.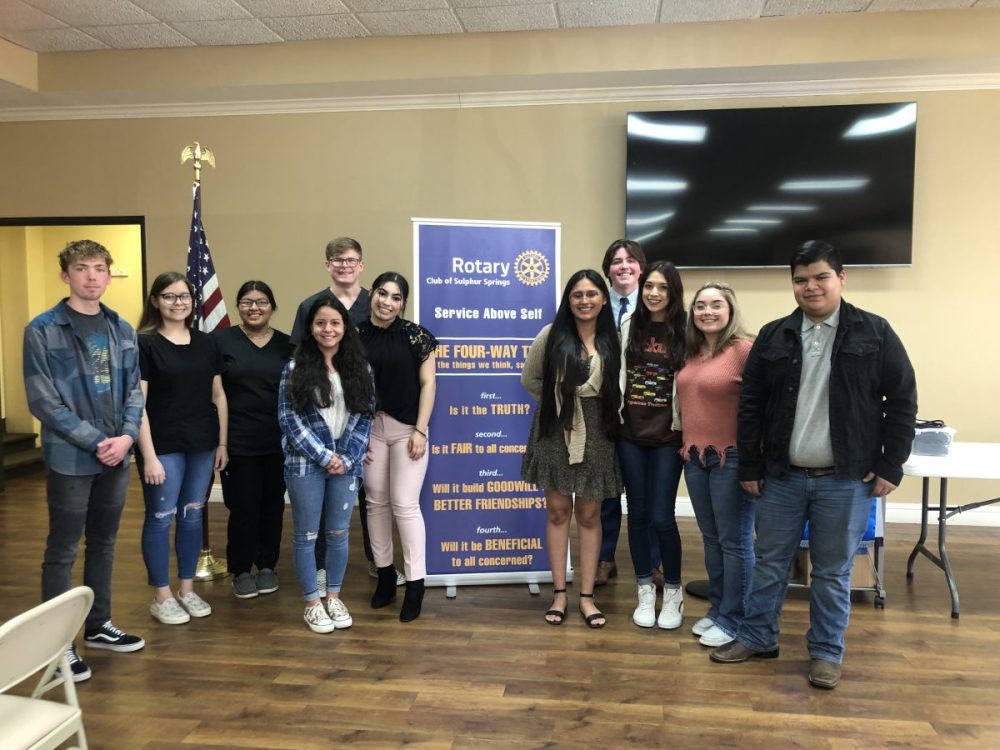 "The students did an outstanding job in presenting today," said Jenny Arledge, SSHS CTE Director.
Last month, students Jillian Jumper Clancy Mayo, Mykylie Meador, Ella Ray, Madelyn Sherman, Michelle Mejia and Khira Young updated the Rotarians their experiences and take-aways from RYLA (Rotary Leadership Youth Award) Camp, a camp for a select group of students who excel in leadership and school and community service the Rotary Club is helping develop future leaders. Stress management, conflict resolution, delegation, facilitation skills, and goal setting are a few of the things TYLA camps and summits can teach.
---
For More Information
Rotary Club is a service club dedicated to the ideal of Service Above Self. Rotary Club of Sulphur Springs is "committed to providing our membership a fun and engaging way to serve our community and world.  Every week the club provide members and guests the opportunity to network over lunch while learning about and engaging in programs that make a difference, such as CTE programs in schools.
On April 30, Rotary Club of Sulphur Springs will be hosting Claws for a Cause 2022, from 5 to 9 p.m. on Celebration Plaza. All you can eat of crawfish and live music by Dubb and The Love Machines available for $30 a ticket for ages 13 and up or $15 a ticket for ages 12 and under. Beverages also available for purchase. All proceeds benefit Hopkins County non-profits, and provide selected graduating seniors with scholarships. Tickets available from Eventbrite. Tables for 10 available for $500; various sponsorship tables, VIP Service and "extras" available as well.
---
SSHS students and staff, like many schools around the county, state and nation, spent February celebrating Career and Technical Education Month, a public awareness campaign to celebrate the value of CTE and the achievements and accomplishments of CTE programs across the country. To help Sulphur Springs High School celebrate CTE Month 2022, KSST compiled short videos featuring a few of the CTE programs offered at SSHS.
If you missed seeing them on Channel 18, they can be found on the KSST Radio YouTube channel, or by clicking the following links: