Board Officers Elected, Audit Progressing, Counties Urged To Consider Designating ARP Funding For Replacement Of Cross Ties
Northeast Texas Rural Trasnsportation District (NETEX) Board approved four of the five right-of-way (ROW) related matters from RAMS, Inc. For the Elevon Development being constructed in Collin County.
The NETEX Board his week also elected officers, heard a report on finances and progress of a multi-year audit, and the president urges counties to consider designating American Rescue Plan funding for replacement of cross ties on the railroad.
Elevon Development
The NETEX Board agreed to four of the five ROW related matters presented from RAMS Inc. for Elevon Development, and authorized their attorney and chairman to handle final documents. Approved as recommended were: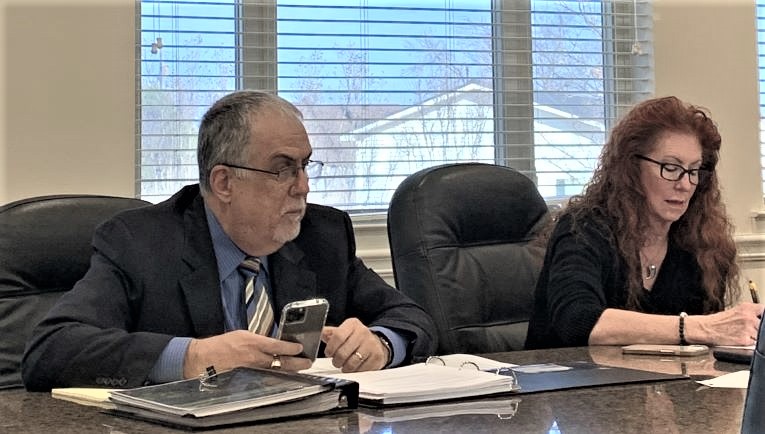 Utility agreements, pipeline and wireline;
Public road crossing agreements – as a one-time payment per crossing by the developer to NETEX in lieu of future payments at a rate of about $250,000 for Inspiration Grove and $400,000 for Elevon Parkway;
Support removal of Bear Creek bridge, which has been in disrepair for some time, with support of North East Texas Connector (NETEX rail operator), who would like to salvage some reusable parts of the bridge for emergency repairs or temporary parts, if the dissembled bridge pieces are intact after removal; and
Stipulations of parties, detailing who holds responsibility and liability for what, and including one addition to be worked out by counsel and chairman.
Board members indicated the private road agreement ROW mattersfor the Elevon Development should be tabled until the next meeting, pending futher negotiation and ironing out of additional matters.
Financial Update
Treasurer Neal Barker on Jan. 6, 2022, reported NETEX received two checks from NETC, one each for August and September car counts, for a deposit of $6,120 for the month of December. NETEX made two payments of $4,500, one per month, to NETC to be applied toward the lease payment for the machine used to cut brush from crossings. NETEX also had a small legal bill. That gives NETEX a balance of $246,277.19, and the money market account balance of $51,755.
Barker also reported that Mike Ward has continued making progress on the audit or three years worth of finances for NETEX. While the audit wasn't complete by the Jan. 6 NETEX meeting, Ward indicadted he expects to have a report ready to present to the NETEX Board for review at the February meeting.
Hopkins County Commissioners Court, Neal reported, has been talking, trying to figure out a way to provide some additional funding to NETEX to purchase some additional ties for the railroad. He received a check from Hopkins County Jan. 6, 2022, for NETEX in the amount of $25,225. Hopkins County Commissioners Court on Dec. 27, 2021, voted to designate that portion of the American Rescue Plan funding the county received to assist the railroad group with the purchase of cross ties to help improve the railroad.
Although Hopkins County Precinct 1 Commissioner/NETEX Board member Mickey Barker was unable to attend the Jan. 6, 2022 NETEX Board meeting to present the check, Hopkins County Judge Robert Newsom and NETEX Treasurer/Hopkins County NETEX Board representative Neal Barker was on hand for the presentation of the $25,225 from Hopkins County to NETEX.
The treasurer said Mickey Barker also wanted to make clear that as far as he and Hopkins County Commissioners Court are concerned the funding is not given for rail improvements in Hopkins County but to purchase cross ties to be installed wherever along the roadway the most ties are needed.
"Give thanks to Mickey whenever you all see him for kind of spearheading that and encouraging me to write letters to each of your county judges, which has been done. Hopefully, as you are considering those ARP fundsand how you might use them, this is an excellent way if you can find some room in your expenditure budget," NETEX Board President/Chairman Brian Lee said Thursday. "Thank you also Judge Newsom in your role in getting this done. I assume you were not a dessenting vote there."
"It was unanimous," Newsom said of Hopkisn County Commissioners Court's decision to contribute American Rescue Act funding to to NETEX.
"TI appreciate that very much, you taking the lead on that," Lee said.
Election Of NETEX Officers
The NETEX Board then was asked to elect from members four to serve as officers, who compose the executive team. Entering the meeting, Lee served as president, Cheryl Williams as vice president, Neal Barker as treasurer and Paul Burt as secretary.
One board member asked if the members could simply make a motion to keep the current slate of officers on the board. Lee noted that mixing it up and giving others an opportunity to assume leadership roles on the NETEX Board is recommended.
Lee thanked the other board members for giving him that opportunity for more than one term, but said he was more than willing to pass the president's baton to another member of the board if any have aspirations of a leadership role. He then asked if those serving as officer at that point wanted off the board.
Neal Barker said he would prefer not to serve yet another term as treasurer of the group. He said NETEX Administrative Assistant to the Board Mitzi Y'Barbo actually does the actual accounting work and provides a report for the treasurer to read aloud. The position requires from less than an hour to about 2 hours a month, and as a member of the executive team, could be called upon by contractors such as Jarrett Mankin of RAMS Inc. or others to answer questions or make calls related to NETEX business to check on things.
Suggested for treasurer were Mickey Barker who lives in Sulphur Springs where a new facility is to be constructed and where the board meets and assistant keeps track of records and business, and Hunt county Precinct 1 Commissioner Mark Hutchins, who had previously indicated a desire to have an active role on the NETEX Board. Neither were able to attend the Jan. 6 meeting, so both were contacted by text message. Hutchins responded with a willingness to serve, and the board unanimously approved the nomination.
Titus County Judge Brian Lee was again elected to serve as president, Collin County Precinct 2 Commissioner Cheryl Williams as vice president and Paul Burt (Delta County) as secretary.
NETC Operators Update
Amanda Fernandez, Northeast Texas Connector Railroad customer service representative, reported that NETC finished the year strong. In December 2021, 116 cars made it through interchange, 2 less than in November 2021. Overall, NETC reported 1,350 cars on the rail from Jan. 1-Dec. 31, 2021, NETC's first full year as rail operator. NETC officially stepped in as rail operator on July 1, 2020, but reported 563 carloads fro July thoruigh December of 2020. From July 1 through Dec. 31, 2021, NETC reported having 628 carloads on the rail, an increase of 65 cars from 2020.
She too reported the average number of inbound cycle days was 2.0, breaking even. Outbound cycle time increased by 0.02 to 4.4 days.
"We did have one derailment in Franklin County, and we were able to get that picked up with no problem and repaired a little bit," Fernandez said. "It took about 2 days to repair. We had to get a crane in there to help pick up, but no significant damage- or no damage at all – to cars or engine, just a few repairs on the track."
The derailment occurred just east of Franklin County Road 1020 past the cemetery just off Highway 67 in Franklin County, according to Miguel Fernandez.
Amanda Fernandez also reported 172 ties installed throughout the line, 17 FRA (Federal Railroad Administration) 30 day defects and brush-cut four road crossings: FM 118, FM 2736, CR 4201 and CR 4202.